UPDATES:
Our new street signage is complete; it looks awesome!
-----
All main and secondary bathrooms are renovated. Next up on the agenda will be street signage, with interior paint following.
-----
New stage lighting has been installed and the parking lot resurfacing is complete!
-----
Exterior painting and repairs are completed; it looks amazing! Lighting has been ordered for the sanctuary, and parking lot repairs/resurfacing has begun!
-----
Work on the outside of the building has begun; Praise the Lord!
-----
The two main bathrooms have been completed, and are beautiful! Our next item on the agenda is repainting the outside of our church building, and replacing wood rot that has occurred over the last 20+ years. As soon as the funds are available, work will begin.
-----
Roof Replacement is completed, and we are beginning some much-needed updates to the sound in the sanctuary. Next up will be the renovation of the two main bathrooms.
-----
We are so blessed to announce that we've reached the $30,000 goal to replace the roof, and work has begun. Praising God for His faithfulness through His people!
------
Roof Replacement We have been patching our roof in multiple places for a while now and after another recent repair expense, we see the need to have our roof replaced by the first of the year. The estimated need to complete this is $30,000. Pray with us on this need and anyone wanting to give please write a separate designated check for in-person, mail giving or donating online.
Grace relocated from Matthews drive to Spanish Wells Road 20 years ago. Now 20 years later, it is time to make important repairs and improvements just as you do on your own home. In 2020, the focus is on local missions to take care of Grace so that church can continue to impact the community, area and around the world.
As part of the kick-off presentation, some of the ministries shared how Grace is impacting the community and how missions over the years have impacted those around the world, please take the time to watch the video below. Building for Impact involves giving above tithes and doing hands-on projects around the grounds just we have done in Kenya, Peru, South Sudan, Myanmar, and so many other places.
A list of the projects is available below. The leadership has met with contractors to get quotes for the repairs and improvements that cost will cost $200,000. Please take the time to pray about how you can give to Building for Impact.
You can give HERE, by check or stock options. When you give, please designate your giving to "Building for Impact".
Thank you for your prayerful giving and support to this local mission.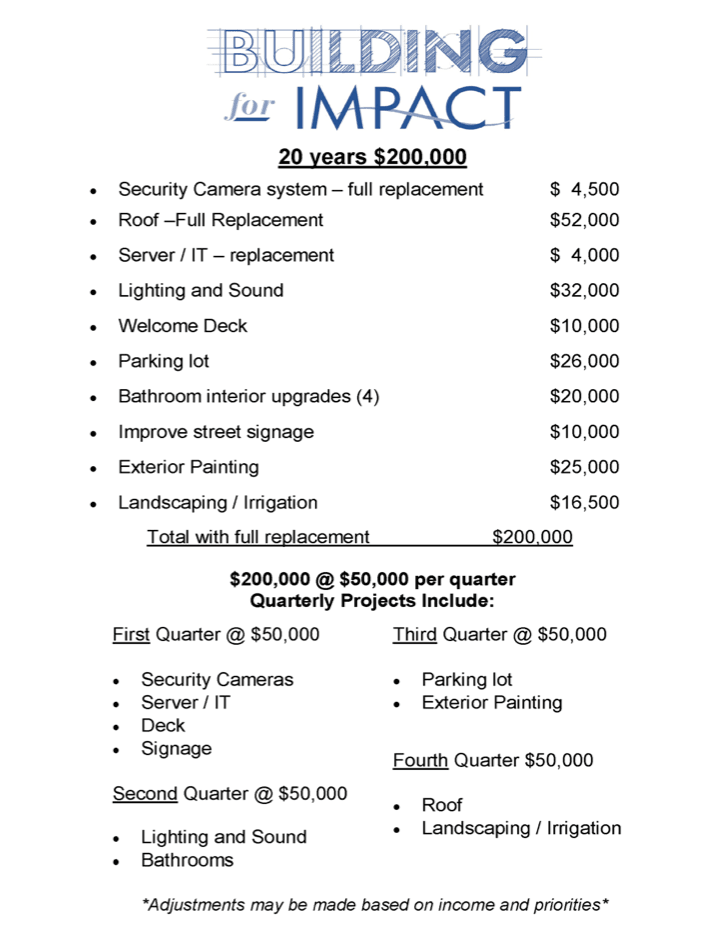 We can't do this without YOU!