A Message from Grace...
Children's Church is now offered at the 11 am service for K-5th GRADE!!! Come join the fun! All children must wear a mask. Please remember to RSVP through one of the weekly email links or by calling the church office at 843.681.6698
In accordance with the Town of Hilton Head Island mandate, masks are to be worn by anyone 2 years old and older when inside Grace Community Church, and directly outside the doors. We encourage you to fellowship outside while also social distancing for everyone's safety. Thank you, and we look forward to seeing you on Sunday mornings at the 9 or 11 am service. We will continue to LiveStream the 9 am service on our Facebook page, and the 11 am service on our Facebook page as well as the website.
We are excited to announce that we are reopening the church building for services beginning Sunday, June 21!
With much prayer, planning, and preparation, steps are being taken to reopen to ensure your safety. The goal was to balance safety and a worship experience that was focused on and honoring to the Lord for all. Many have been hard at work to make offering the in-person services possible for those who are ready to join us. If you prefer to stay home for any reason, we have worked hard to continue a meaningful livestream, online worship service as well. I am so thankful for the staff and volunteers through this process.
Church at Grace will look a little different. More details will be communicated next week so you will know what to expect. Please be looking for something in your mailbox, email and Facebook for that communication.
We are excited about this step forward in worshipping together again. Please continue praying for those involved in our repoening.
Love and miss yall!
Matthew Palmer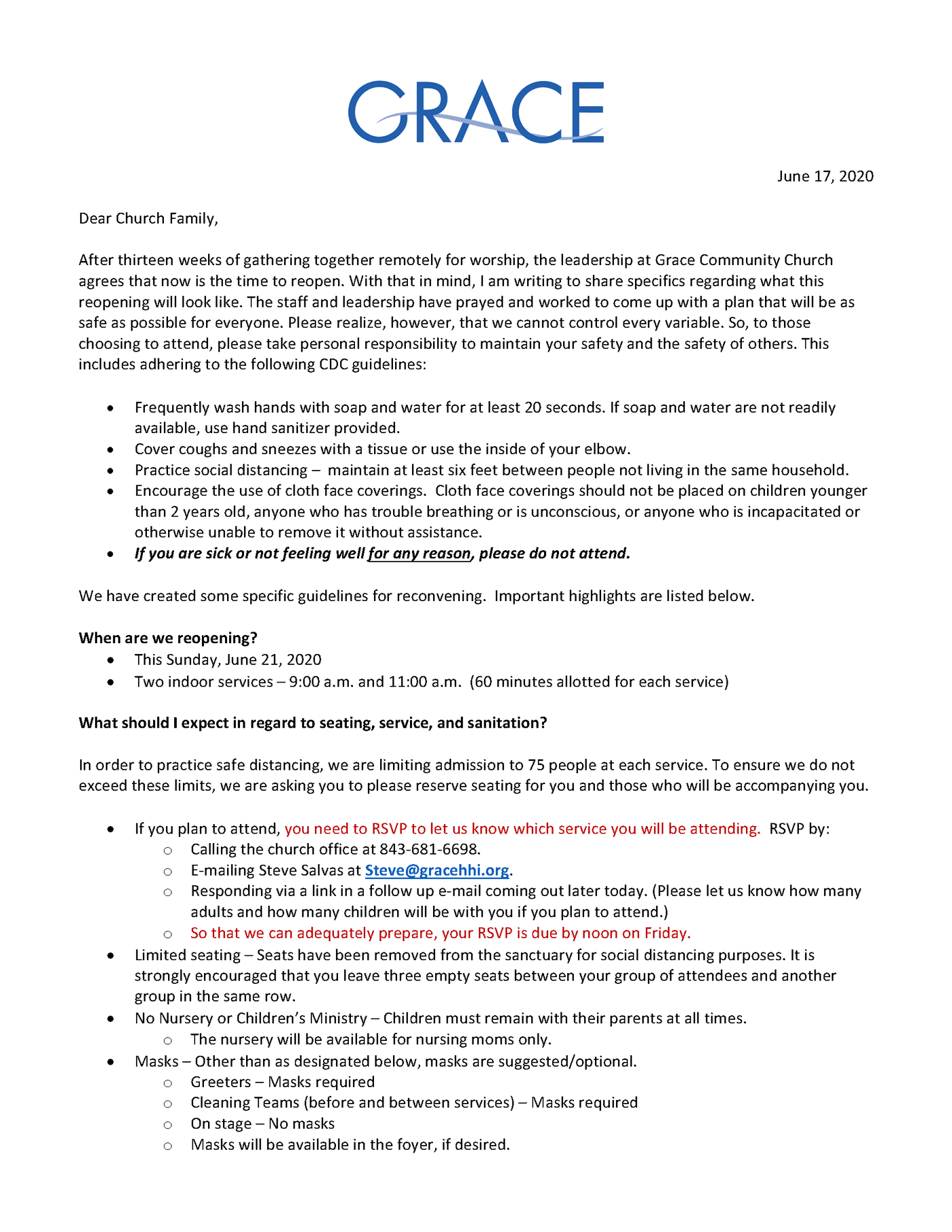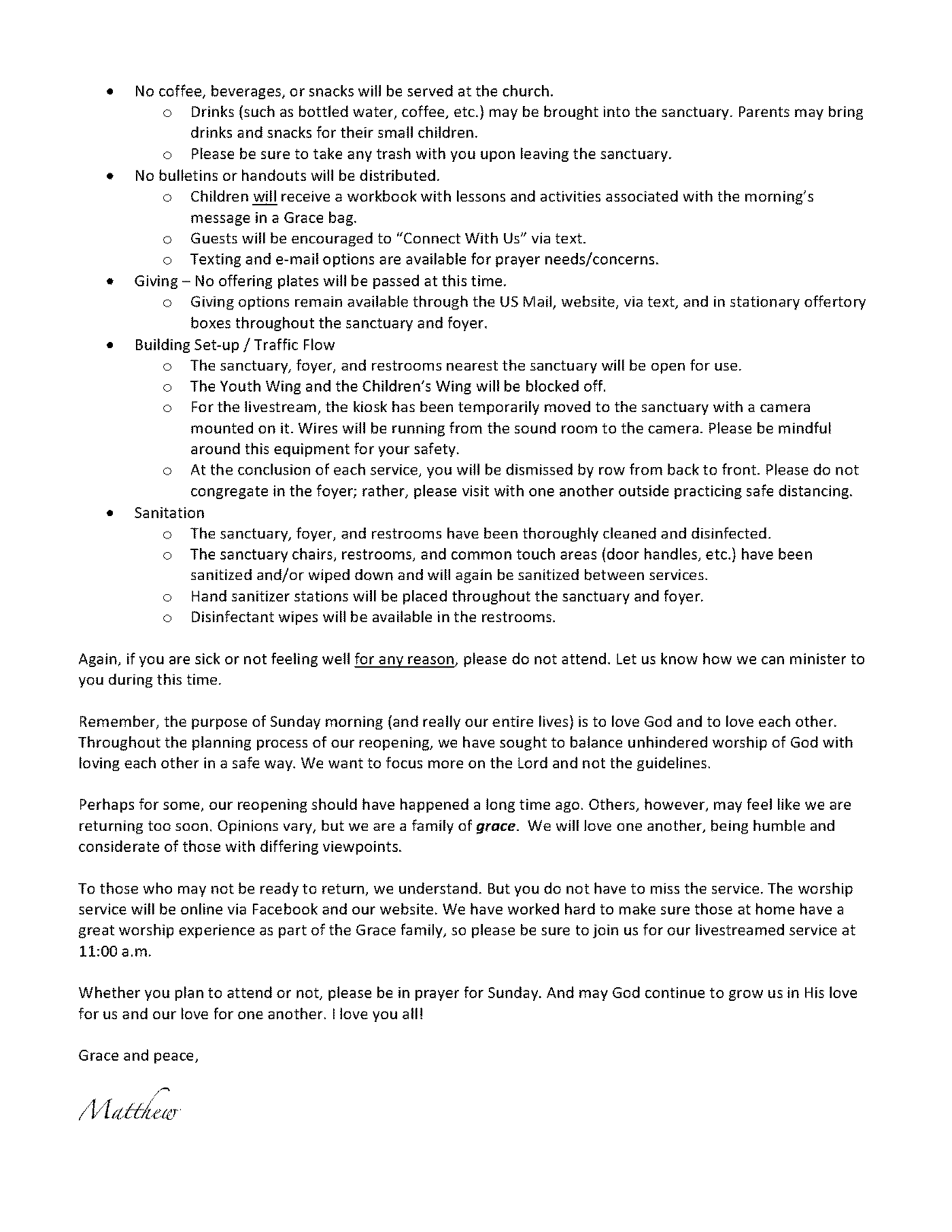 Hello Grace Family,
I think it is safe to say we are all at a loss to describe the events of the past few weeks because of the situation with the COVID-19 (Coronavirus). It seems we learn new information day by day causing more and more questions to surface. In light of what is going on, I wanted to communicate Grace's ministry response. I recognize this is a long email, but there is a lot to communicate and I wanted to be as thorough as possible.
As you probably know by now, due to circumstances beyond our control, Grace will suspend all current services, in person gatherings, and events through Wednesday, April 1st. Life groups are also discouraged to meet in person until further notice as well. Of course, this is not what we want, but we have no real choice in the matter. Restrictions on gatherings and the aggressive nature of the virus have made it necessary for me and the leadership to implement these measures to help protect you and the community.
In the meantime, we are committed to clear and consistent communication as events unfold. Please look for further updates (email, website, Facebook, videos, etc) from us as we look to resume all services and activities as soon as possible!
Here are some details you need to know:
1) LIVE STREAM SERVICES
We invite you to join us via live stream this Sunday, March 22 at 10:00 AM from your own home as we worship together online. To view, simply go to our website (www.gracehhi.org) or Facebook page (https://www.facebook.com/GCCHHI/) to watch live. Playback is available if you miss the start time. We will send out an email reminder, 30 minutes before the live service starts. So, whether we meet on the Grace campus or not, we will keep building the Kingdom and nurturing our fellowship by joining together for online services each Sunday morning at 10:00am.
2) PASTORAL CARE
The pastors, leadership and staff are here to serve the church family and community during this time. There will be some limitations, but please do not hesitate to call the church for urgent needs and/or prayer. 843-681-6698.
In addition, the leadership will be consistently connecting with you through BREEZE. They will make themselves available for prayer requests, hearing from those who need help, and those wanting to offer help.
If you have any further questions or concerns, please email our Associate Pastor, Steve Salvas at Steve@gracehhi.org or Maryjanehoey@gmail.com.
3) CHURCH OFFICE
To help keep the staff safe and healthy, starting tomorrow (Thursday), the church office will be closed through the end of the month. The staff will remain working and available to the church through phone calls, texts and emails. Voicemails at the church will also be checked regularly and emails answered. Again, we are working and serving, just from home.
4) GIVING
Your generosity during this time is vital to our church family. You can continue your regular giving by mailing it in, dropping it off, going online or transferring stock gifts.
Mail/Drop Off
Grace Community Church, 450 Spanish Wells Road, Hilton Head Island, SC 29926. (if dropping off, please call ahead of time)
Giving Online
The link to give online is on our website: www.gracehhi.org/giving or https://gracehhi.breezechms.com/give/online
(You do not have to be logged into our church database (BREEZE) to give online. You can give as a 'guest')
Stock Gifts
Please call the church if you want to give through transferring stocks to the church.
4) RESOURCES
There are many ways we can stay connected and grow during this time. Below are a few resources that Grace is offering to keep you and your family engaged in weekly studies. If you want to find out about more resources, please contact our Associate Pastor, Steve Salvas at Steve@gracehhi.org
Follow up from Sunday Morning
Over the next couple of weeks, we will be sending out follow up application questions for you and your family to discuss after listening/watching the service online.
Right Now Media
This online resource is free to all of the Grace Community Church family. RightNow Media, is kind of a Netflix for Christian Bible Study. Experience the world's largest customizable library of biblical video resources. There are studies for adults, families, kids, etc. Please take advantage of this online opportunity.
This link will take you directly to the create a profile under our church's name! Feel free to share this with your friends and neighbors as well. Maybe start an online 'virtual' life group with friends and family, near and far. www.rightnowmedia.org/Account/Invite/gracehhi
Children's Ministry
Charlynn and Kimberly have been working hard to provide resources for your kids and families. They are posting videos on Facebook, mailing lessons and crafts and encouraging weekly scripture memorization. Charlynn is also meeting online with other Children Director's in the area to share ideas on how to best engage and encourage Children's Ministry at Grace and in the community. For any questions, please email, text or call Charlynn or Kimberly Charlynn@gracehhi.org (864)992-4835 or kimberly@gracehhi.org (843)412-2941
Youth Ministry
Keagan is working on an online student ministry connection to hear the talk and to get devotions for middle school and high school students. Please email Keagan with any questions…Keagan@gracehhi.org
Previous sermons…
Visit our website www.gracehhi.org to access past sermons
Coronavirus 7 Day Devotional
If you didn't receive the '7 Days for the Coronavirus "Moving from Fear to Faith"' devotional, please reply to this email and we will get one to you.
6) PRAYER
Once again, we ask you to join us in prayer:
· We are asking the Lord to end this virus.
· We are asking the Lord to give our national, local, and spiritual leaders divine wisdom.
· We are asking the Lord to cover all first responders and medical personnel with His protection and courage.
· We are asking the Lord to give doctors, nurses, pharmacists and all others in the health care profession wisdom and protection.
· We are asking the Lord to help us apply His command 'fear not'.
· We are asking the Lord to grant peace in the midst of uncertainty – finances, employment, and health.
· We are asking the Lord to help us with balance…discerning and trusting His voice. To be bold and be sensible. Take care of ourselves and those around us and to love God in the process.
· We are asking the Lord to show us how to minister most effectively to others during this time.
· We are asking the Lord to use us as light in these dark times.
I want to remind you that you are loved deeply by me, my family, and especially by the Lord. My heart has been stirred for each of you and I am praying for you often. I have complete confidence in the ability of The Great Shepherd to watch over us all. He is sovereign and He loves us. What more could we ask for?
We will get through this, and we will become stronger as a result.
I look forward to seeing you again very soon!
Matthew Palmer
Update from GraceKids...