09.23.22
Hi, dear Grace!
Would you like to know how I knew Blair was THE ONE for me? Would you like to know what solidified in my head that she would be my wife? It's not some deep theological nugget that will change how people determine who their future spouse will be. It is, however, something I had never experienced before and was quite revelatory to me. But before I get to that, let me share some backstory.
Despite what you may think, I am quiet and reserved by nature. Yes, I can be loud and boisterous about things that excite me – the Bible, my family, God's grace, Grace Church, sports … the list is long and varied – but to be honest, while I am surely less restrained about some things, I really am an introvert. I liked girls in high school. The problem? I liked basketball more. And baseball. And my friends. And … well, let's just say girls could be found on the list of things I liked, but you would have to look at that list closely to find them on it. Things started to change when I was a senior and took the following year's homecoming queen to the Junior-Senior Banquet. Dressed in a tux, pulling up to her home in my light blue '76 Chevy Chevette, and carrying a corsage to her door, I was feeling pretty good about myself. The banquet itself was great. My date was great. The time with my classmates was great. And the Senior Awards were great. (I was voted Most Easy-Going Guy of the Class of '81.) However – and I hate that there's a "however" to this story – I was stressed out the entire time I was with my date in the car. As we were driving to the banquet … as we were driving to the after-banquet party … and as I was driving her home, I felt such pressure to keep the conversation going. If a moment of silence passed between us, I panicked. As dumb as it may sound, a lull felt like the end of the world (or, at the very least, the end of my dating relationship). By the time I was a sophomore in college, I was much more confident in myself. Not only that, but you didn't have to look too closely on "The List of Things Steve Likes" to find girls on that list. Unfortunately, when I was with a girl, I continued to struggle when a hush fell over us. Oh, no! What do I say? She probably doesn't want to talk sports. I was at a total loss.
And then Blair came along. Blair was outgoing. She was fun. She loved to laugh. She loved sports – YES! And although her faith was very new to her, she deeply loved the Lord. I was very attracted to her and began to wonder if she could be THE ONE for me, but it wasn't until we went on our first date that I knew for certain she was definitely THE ONE. Why? Because with her, I was at total peace – even in times of quiet. As a matter of fact, I didn't immediately notice when silence happened between us. Only after these times passed did I realize a hush had taken place and I didn't panic. That was big for me – really big! I'll say it again … With Blair, I was at total peace even in the quiet.
You know what? The Lord wants this with me, and He wants it with you, too. Sadly, how I felt in silence with a date years ago is sometimes how I feel in silence before the Lord even today. Sure, I spend time reading my Bible daily. And yes, I spend time in prayer. But spending time in the quiet of God's presence? I really don't do that too well. Perhaps it's because I have so much to say to Him. Or perhaps it's because I have so much to do. Either way, my excuses are all about me. The Bible is clear – There is a time to keep silent (Ecclesiastes 3:7). Oh, dear Grace, how I long to be obedient to the Scriptures in this area! Do you remember the words of Moses to the Israelites as they stood between the Egyptians and the Red Sea? "Don't be afraid. Stand firm and watch God do his work of salvation for you today ... God will fight the battle for you. And you? You keep your mouths shut!" (Exodus 14:13–14 MSG). Do you remember the words of David in the Psalms? "Be silent before the Lord and wait expectantly for Him" (Psalm 37:7a HCSB). Or the words of God in the Psalms? "Be still, and know that I am God" (Psalm 46:10a NKJV). Or the words of the Prophet Jeremiah in Lamentations? "It is good to wait quietly for the salvation of the Lord" (Lamentations 3:26 NIV). Or the words of the Prophet Zechariah? "Be silent, all flesh, before the Lord, for He is aroused from His holy habitation" (Zechariah 2:13 NKJV). Forgive me, Lord, when I do all of the talking in prayer. Forgive me when I fail to spend time in silence before You. Help me – please, help me – to be still in Your presence more often. And in that stillness, allow me to simply bask in Your peace and presence, knowing You alone are God. Thank You, and Amen.
To those of you who are not members of Grace, you are invited to attend our Discover Grace Dinner this Sunday at 6 PM. You will have an opportunity to meet the staff and several of our elders and deacons. You will also hear about the mission and vision of Grace. Child care is available. An RSVP is required so that we can prepare adequately for food. We look forward to a great evening together with you.
Ladies, don't forget the Fall Women's Conference – Knit Together In Christ, Sewn Together In Love – scheduled for Saturday, October 8 from 9:00 AM – 3:30 PM. Dawn Camp is the featured speaker. A continental breakfast will be served, as will lunch. Tickets are only $15.00 per person. It promises to be a great day. You may visit our website to make your reservation. See our Director of Women's Ministries, Jessica Maples, if you have any questions about the conference.
We are planning an all-church picnic celebration, to be followed by a baptism service, later in October. Stay tuned for more information on that. If you know someone who is interested in being baptized, let them know. This is always one of the highlights of our year.
I hope to see you Sunday, dear Church, as I will continue our preaching series through the Gospel of Mark. Thank you in advance for your prayers.
To Blair, you are still THE ONE for me. Thank you for an awesome 36 years (and counting). And to the family of Grace, you are such a blessing to me and my family. Thank you for a wonderful coming-up-on 3 years.
You are so loved.
Steve
09.16.22
Hi, dear Grace!
One of our family's favorite movies is called The Emperor's New Groove. It is an animated feature by Disney that came out twenty-two years ago. Lindsey and Andrew were 9 and 7 years old then, and they watched this movie over and over to the point that they can still today say many of the lines from the film by memory. As an aside, many of you with children and grandchildren from the Frozen era may be experiencing this now. Anyway, Blair and I laugh hard as we listen to our kids – now 31 and 29, respectively – go back and forth with dialogue from the film. One particular scene involves Yzma (the protagonist) and Kuzco (the emperor who is turned into a llama by Yzma). Yes, he is turned into a llama. Remember, this is an animated movie. While not one of my favorites, it really is funny. In this particular scene, Yzma is talking incessantly while Kuzco is paying no attention to her. Rather, he is looking at her quizzically and – in his head – asking questions like, "What is holding this woman together?" He then spots a piece of spinach in her teeth and wonders, "How long has that been there?"
That scene from The Emperor's New Groove leads me to recall a time … Ugh! Am I really sharing this with you? Yes, and here goes – Lindsey and Andrew were students at Grace Brethren Christian School, so this goes back about fourteen years or so. There was an evening assembly of some kind at the school. Since Blair was a teacher there, I arrived separately. As I climbed the steps and entered the doors leading to the sanctuary where the assembly was to take place, I saw several people who greeted me and shook my hand. One was even a fellow elder of the church. I remember a double-take from him, which seemed odd, but I didn't think much of it. I still hadn't seen Blair or our kids yet, but I did see two friends – Cliff and Sheryl, a husband and wife who are very dear to me and Blair. I received no greeting from them, though. Instead, Sheryl looked at me, pointed her finger, and said, "You need to go into the bathroom and get that off your face. I can't look at that all evening." Having no idea what she was talking about, I went into the men's room and promptly looked in the mirror. In that moment, the words of Kuzco were my own. HOLY COW!!!! HOW LONG HAS THAT BEEN THERE?!?! AND WHY DIDN'T MY FELLOW ELDER SAY SOMETHING TO ME?!?!
Yes, I was quite embarrassed. But you know what? I really appreciate Sheryl for speaking up. And since then, I speak up, too. Food in your teeth? Something in your nose? Bad breath? Zipper not zipped up? I'm probably going to say something to you – not to embarrass you, but to keep you from being embarrassed. Similarly, if a sin issue has overtaken a brother Christian, it's likely that I will say something. The Bible says, "Dear brothers and sisters, if another believer is overcome by some sin, you who are godly should gently and humbly help that person back onto the right path. And be careful not to fall into the same temptation yourself" (Galatians 6:1 NLT). I'm not talking about judgement here. I'm talking about a brother Christian who has fallen into sin – sin as obvious as that thing on my face – who doesn't need judgement, but restoration. Of course, this is to be done by one who is mature (godly) in the faith. It should also be done gently and in humility. Perhaps I would come alongside a brother more gently than Sheryl did for me – that was brutal, but she did it because she loves me. And love is the motivation in all of this, in hopes that restoration will happen. May we love one another enough to live this verse out at Grace. I pray you will do it for me, dear Church, and I pray you know how much you are loved if I ever have to do it for you.
Many of our Life Groups have started meeting. A few openings are available if you are interested in joining. Community Bible Study also kicked off on Tuesday and figures to be really good. The men's Bible study through Romans has been meeting for several weeks, and the ladies' Wednesday morning study through Colossians started up again this week. The ladies' Cultivating the Fruit of the Spirit study also met for the first time last night. Other studies are available, as well. If you are interested, do not hesitate to contact me. I will work to connect you to a Life Group or Bible study that will fit your current schedule and life situation.
On Sunday, September 25, we will host a Discover Grace Dinner at 6 PM. This event is for those of you who are interested in knowing more about Grace Community Church or who are considering membership. You will enjoy a wonderful meal, have an opportunity to meet our staff and others in leadership, and hear about the mission and vision of Grace. Please contact the church office if you are interested in attending, as an RSVP is required. Child care is also available.
Ladies, don't forget the Fall Women's Conference – Knit Together In Christ, Sewn Together In Love– scheduled for Saturday, October 8 from 9:00 AM – 3:30 PM. Dawn Camp is the featured speaker. A continental breakfast will be served, as will lunch. Tickets are only $15.00 per person. It promises to be a great day. Visit www.gracehhi.org to make your reservation.
As you can see, there's a lot happening at the church. None of it will matter, however, apart from the work of the Spirit in us. We are fully dependent on the Lord and His amazing grace. Please, Lord, have your way in us.
Thank you for reading, dear Grace. You are so loved.
Steve
09.08.22
Hi, dear Grace!
First, thanks so much for finding me among all that is in the Grace Weekly E-newsletter. As you can see, my musings – formerly known as "The Wednesday E-mail" – now have their own space on the Grace website, as well as a new name. Thank you so much to all of you who weighed in with suggestions. You made the decision very difficult, but several of you referenced how I close each edition of my weekly posts. As a result, this corner of our website will now be known as Pastor Steve's You Are Loved. Enjoy, dear Church!
Each year in September, the Maryland Police Chiefs' Association and the Maryland Sheriffs' Association hold a professional development training conference in Ocean City, MD. Chiefs, Sheriffs, and Command Staff personnel from agencies all across the State of Maryland attend this conference. One evening of the week is dedicated to hosting an Awards Banquet for officers whose actions went above and beyond the call of duty or who displayed exemplary work in a particular field. Twenty-three years ago, Blair and I were at that banquet. I was less than five years into my career at the Charles County Sheriff's Office at the time and serving as a detective in the Criminal Investigations Division when someone apparently thought highly enough of my work to nominate me for an award. That nomination resulted in my being named the Maryland Sheriffs' Association's Deputy of the Year for Outstanding Contribution to Profession in 1999. In front of an untold number of high-ranking law enforcement officials, I thanked my wife for her love and support, and I thanked my Sergeant and fellow detectives for their example and their commitment to our calling. I then talked about my brother Chuck, who was a Maryland State Trooper and who had been named Law Enforcement Officer of the Year in St. Mary's County, MD, several years earlier for heroic actions he took during a response to a shooting incident. I also talked about my brother Allen, who had been named Manager of the Year for Foot Locker (an international sportswear and footwear retailer) on more than one occasion in the past. With that, I honored my mom and dad. My award, I said, and my brothers' awards are reflections of our parents, who instilled the character values of sacrifice, service, and a strong work ethic in each of us. I then dedicated the award to them before finally thanking the Maryland Sheriffs' Association and getting off the stage.
Fast forward with me now to last Friday, when Blair and I were in Orlando, FL, to witness our daughter receive The Walt Disney Legacy Award. Allow me to be a bursting-with-pride dad for a moment here. The Legacy Award is named for Walt Disney and his mission to dream, create, and inspire. Recipients are nominated by their peers, and less than one percent of all Disney employees will receive the award. Lindsey is a mover-and-shaker, she is a lover of people, and she is being salt and light to those who work below her, above her, and beside her at Disney World. The Legacy Award is a really big deal there, so when Blair and I got a call to notify us of Lindsey's selection, we made arrangements to be there in person. Oh, we were also sworn to secrecy; the award was a surprise to Lindsey. Yes, there were tears. It was a very special time for our family, and we sure were happy to have all of us – including our son Andrew – together to celebrate the occasion.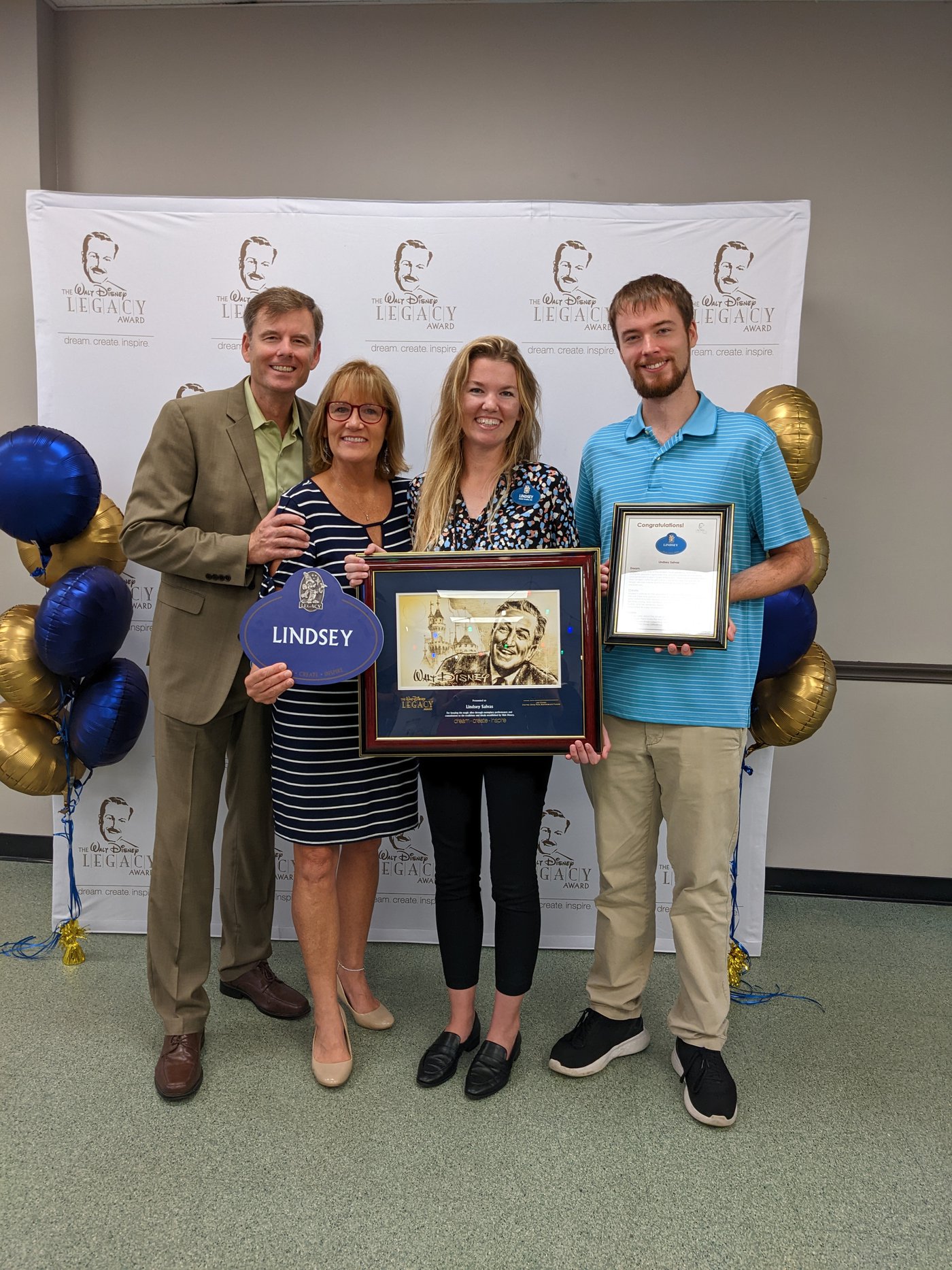 You know, the Bible says, "For we must all stand before Christ to be judged. We will each receive whatever we deserve for the good or evil we have done in this earthly body" (2 Corinthians 5:10 NLT). Yes, dear Grace, there will come a day when we stand before the Lord and answer for the life we have lived. And if we are found deserving on that day, we will receive our reward. Please don't misunderstand me here – I don't live a life of faithfulness so that I can receive a reward in heaven. I live a life of faithfulness because God has called me to be faithful. But a life of faithfulness will never go unnoticed – not here on earth, and certainly not on that day when we stand before Him. Oh, dear Father in heaven, may we be found worthy of a reward as we stand in Your presence. What a joy and privilege it will be when we – like the 24 elders in Revelation 4 – cast our rewards at the feet of the One who truly is worthy of all glory and honor and praise! (See Revelation 4:10–11 for reference.)
Don't forget this Sunday is Back To Church Sunday. There's still time to invite someone to church. If you do, please introduce them to me. I love meeting new people and welcoming them to the greatest church on the Island.
Also on Sunday is the first gathering of the new ministry season for our youth. Teens and their families are invited to Jarvis Park from 5:00–7:10 PM for a time of food, fellowship, and games. If you know of a student in middle or high school, please make them aware of this event. We are hopeful for a great turnout.
Oh, one final thought – To my mom and dad, Lindsey may have received a Legacy Award named for the founder of a global entertainment empire, but your legacy lives on through her and all of your grandchildren. Thank you for your example of faithfulness, commitment, and hard work. Lindsey's award is your award. Feel free to add it to the many rewards you have received (in the case of my mom) and will receive (in the case of my dad) in heaven. We can lay them all down at Jesus' feet together one day.
You are so loved, dear Church. Thanks for reading.
Steve