03.16.23
Hi, dear Grace!
Last weekend my wife traveled to Hillsville, VA, to celebrate her aunt's 90th birthday with family and friends. Aunt Janette was married to Pastor Elmon Thompson for 69 years before he went to be with the Lord just three years ago this month. While I always miss Blair when she is away, I am happy she had the opportunity to celebrate her aunt's life and to be with her oldest brother, several cousins, and many others on this occasion.
When Blair is away, I try to redeem the time with my dad and son. My dad really enjoys cornhole, so we spent some time playing last weekend. Or better, hespent time playing last weekend. My role is not as his competitor, but as his gofer. My dad throws all eight beanbags – averaging four bags in the hole each time – and I then retrieve the bags, bring them back to where he is standing, and hand them to him one at a time so that he can throw all eight bags again. Maybe that's why he loves it so much. Haha! Meanwhile, my son (Andrew) and I watched a few movies that wouldn't appeal to Blair – i.e., movies not found on the Hallmark channel. And Sunday, after getting my dad settled and ensuring he was taken care of, Andrew and I spent some time at lunch together after church. That lunch is what prompts this week's post.
So if you think I'm getting ready to bore you with a restaurant recommendation or a menu item selection, that's not it (although we were very happy with our location and our lunch). Or if you think I'm getting ready to share the details of our deep and probing conversation with one another, that's not it either (although we did talk about some important things in spite of how loud the music was). Ah, there it is – that mention of the music! Actually, it was a particular song that caught my attention as we sat in our booth enjoying our meal and conversation. That song took me back to a place in my memory from the fall of 1988. I can narrow down the date because I recall my circumstances – married but without children (pre-1991), teaching in a Christian school (pre-1990), and a fan of the Dallas Cowboys (pre-1989, when a new owner purchased the team and fired the greatest coach in the history of the NFL and a strong Christian man). But I digress … let me get back to the song and that place in my memory. Blair and I were invited to a party at the home of some friends. Everyone at this party was associated with the Christian school where Blair and I were teaching at the time. They were teachers, employees (secretary, finance person, etc.), spouses of teachers/employees, and parents of students. All were wonderful Christian people. Blair and I still keep in touch with many of them today, while others are already with the Lord. So what does a group of wonderful Christian people do when they gather together for a party? Well, back in the 1980's – and I promise I didn't know this until we arrived – we created our own music videos. Yes, dear Grace, in the basement of this home, our hosts had set up a drum kit and guitars. All were fake – no music could be played on them. Also set up was a videocassette recorder in front of the "stage" where our "instruments" were set up. We each drew a number from 1 to 4, and all those with a matching number became a band. We then had to decide what song we were going to lip-sync to while being recorded on video. Sorry to disappoint you, Grace, but none of these wonderful Christian people chose "Amazing Grace" for their song selection. Ugh! I shudder even now realizing – unless it was destroyed sometime in the past thirty-four-and-a-half years – that there is a VHS tape out there with a recording of Dan on lead guitar and sax, Jamie on bass guitar, Lisa on drums, and yours truly lip-syncing to Huey Lewis and the News' "Heart of Rock-n-Roll".
Let me now fast-forward to last Sunday. As Andrew and I were enjoying lunch and talking over the music, what song do you think started blaring over the sound system in this restaurant? Yes, it was "Heart of Rock-n-Roll" by Huey Lewis and the News. I cannot recall when I last heard this song, but you know what? I remembered nearly every line. It was brand new to Andrew, and I told him the story I just shared with you. (Really, Dad? Music videos? How embarrassing!) But what struck me as I remembered back to 1988 and a party and a particular song was this – Music is powerful! And our brains are wired in a way to remember music even after decades have passed! And I like that, because although my mind is filled with a bunch of useless songs from the radio or theme songs from television shows or even jingles from commercials – going back even to the late 1960's and early '70's – my mind is also filled with the songs I sang so long ago in Children's Church, songs from Vacation Bible School, songs from youth retreats, and songs from the worship service at Landover Hills Baptist Church where I was saved as a boy. They make me smile even when life gets hard. And that's the message of today's post.
The Bible says, "Be filled with the Spirit, speaking to one another in psalms and hymns and spiritual songs, singing and making melody in your heart to the Lord" (Ephesians 5:18b–19 NKJV). These verses identify three evidences of the Spirit-filled life – all of which center on music. "Speaking to one another" is in the sense of communicating or encouraging one another. How? With God-centered music (psalms, hymns, and "spiritual" or worship songs). "Singing" is not just about singing any old song, but rather those "songs, hymns, and spiritual songs" that were just mentioned. And "making melody in your heart" is indicative of the joyful expression that such music brings. Yes, music is powerful. It uplifts the spirit and brings joy to the heart. So sing loud on Sunday morning during the worship set, dear Grace! Let your voice and your joy fill the sanctuary this week! Not only will you be blessed, but all who hear you will be blessed, as well. Praise the Lord!
Speaking of songs, hymns, and worship songs, Seth and the Worship Team will be here next Friday (March 24) at 7 PM for a night of singing, special music, and more. Drinks and light refreshments will be served. I hope you can join us.
Of course, there is so much more happening. The church calendar is full. Please check the Grace Weeklye-newsletter for details on all of it.
Funny, but as I wrap this up I'm no longer thinking of the words to "Heart of Rock-n-Roll". Instead, I'm thinking of a song that was written by Matt Redman in the late 1990's. The words go like this – "I'm coming back to the heart of worship, and it's all about You. It's all about You, Jesus." Amen.
You are so loved, dear Grace.
Steve
03.09.23
Hi, dear, Grace!
On March 10, 1876 – yes, that is 147 years ago today – the first-ever telephone call was placed. Alexander Graham Bell, sitting in his laboratory, placed a call to Thomas Watson, who was sitting in an adjacent room. Bell's words to Watson? "Mr. Watson, come here. I want to see you." Watson then walked to the laboratory from where Bell placed the call. Bell's telephone invention had worked!
Phones have come a long way since 1876. There was the old upright telephone (also called the "candlestick" telephone), the hand-crank telephone, the rotary telephone, the touch-tone telephone, the cordless telephone, the cell phone, the flip phone, and now the smart phone. Whew! That's quite an evolution of the telephone! Today more than ever, it's easy to reach someone simply by placing a call. Why? Because while a phone may have been a luxury as recently as 60 years ago – when nearly half of all families in South Carolina had no phone available to them at all – it is now a necessity today. In 2023, it seems everyone has a phone in their pocket. As a result, anyone and everyone is within our reach – as long as we have their number, of course. And God forbid we lose our phone. Panic sets in … we are shut off from the world! Oh, no! But consider, dear Grace, this question – If we were ever to be shut off from the Lord – if the privilege of prayer were ever to be taken away – would panic set in? If our access to the Lord were to be severed, would it change us the way a missing phone changes us?
The Bible says, "Pray without ceasing" (1 Thessalonians 5:18). Prayer – unceasing prayer – is a command. Are we being obedient in this? I have a picture in my head of what it means to pray without ceasing. This "picture in my head" is actually a memory of my son, Andrew. He was perhaps six years old at the time. I arrived home from work and walked in the door, only to find my son seated on a beanbag chair in front of the television. He had our TV hooked up to a video game console, and he was playing a game – probably Mario Kart or something similar. He had no idea I had come in. He was completely focused on what he was doing. So what's this got to do with praying without ceasing? Nothing yet, but I'm getting to it. At first glance, it appeared Andrew had a toothache or some type of injury to his jaw. Then I looked more closely, at which time I saw that my dear son had tied one of my tube socks around his head. Surprisingly, an antenna appeared to be sticking out of the sock. I finally realized what was going on – The sock that was tied around Andrew's head was holding a cordless telephone to his ear. As he was playing a video game, he was talking to his best friend, Alex. Since he wanted to play his game and speak to Alex at the same time, he created his own version of a "hands-free" device by fastening our phone to his ear with my sock!
I want my prayer life to be just like that phone tied to my son's head, dear Church. Whether I'm at the office or at home – whether I'm working hard or resting easy – whether I'm reading a book or watching the birds – I want an open line of communication with the Lord. In all things and at all times, I want to have an attitude of prayer. In a moment when something good happens, I immediately want to praise the Lord. In a moment of selfishness, I immediately want to confess it to the Lord. In a moment of worry for a sick friend, I immediately want to bring that friend and his/her situation before the Lord. As I'm going about life from day to day, I want to be always conversing with the One Whose ears are always open to our prayers (1 Peter 3:12). Oh, but please don't think this is a one-way conversation, Grace. I also want my ears to be always open to what the Lord has to say to me through His Word and the work of the Holy Spirit in me. Whether I am praying for blessing over my family or the salvation of a loved one or the healing of a friend or the needs of others or the ministries of the church, at the same time I want to pray the words of 1 Samuel 3:9–10 – "Speak, Lord, for your servant is listening" (NIV). Yes, Lord, speak … and have Your way in me.
BIG reminder – It's "Spring Forward" time. Be sure to set your clocks ahead one hour before going to bed this Saturday night.
Quick reminder – If you volunteered to fill Easter eggs, please remember to return the filled eggs to the Children's Ministry table by Sunday, March 26.
New reminder – Ladies, save the date for the Women's Spring Luncheon on Saturday, April 29 from 11:30 AM – 2 PM. More information will be forthcoming. Stay tuned.
Finally, I'll end this post with a quote on prayer by C. S. Lewis – "I pray because I can't help myself. I pray because I'm helpless. I pray because the need flows out of me all the time, waking and sleeping. It doesn't change God. It changes me."
You are so loved (and prayed for), dear Church.
Steve
03.03.23
Hi, dear Grace!
I was framed! It was a set-up! You can't pin this on me! I am not a crook! Innocent, I tell you! Besides, I was just a kid!
Perhaps I'm getting ahead of myself. I'm thinking back to an incident that occurred years ago. I was perhaps 10 years old, although I could have been younger. (I sure hope I wasn't older. If so, my plea of innocence might not even convince me.) As I have shared in this space previously, vacations when I was a kid were to the family reunion or to the home of relatives. On this particular occasion, my parents took us to the Garden State for a visit with my uncle, aunt, and cousin. While there, I recall going to the grocery store with my brother and cousin. An adult was with us, although which adult it was I do not recall. It really doesn't matter, except that he or she should have been paying a lot closer attention to what we youngsters were doing. Near the produce section of this grocery store was a large barrel full of peanuts. I paid the peanuts no mind until my cousin walked over and grabbed a handful, shelled them, and started popping them into her mouth. My brother took my cousin's lead and did the same. "Hey! You can't do that!" I said incredulously. "That's stealing!" My cousin's response was completely calm, as if it was no big deal. "It's okay to eat a few," she said. "It's a courtesy sample." Well, even as a kid I knew what the word "courtesy" meant – kind, polite, considerate. But I had never heard the word used in this context. The gray matter in my head did some deductive reasoning and concluded the word "courtesy" must have a second definition, and that definition is free! I grabbed a handful of my own, enjoyed some free peanuts, and wondered why the grocery stores in the Great State of Maryland weren't as "courteous" as the stores in New Jersey. Unfortunately, I snapped back to reality very quickly when my cousin quietly yet sternly scolded me by saying, "What are you doing? Don't let anyone SEEyou!" My eyes went wide, and visions of prison danced in my head. Apparently, courtesy samples weren't offered freely; they were taken in secret! Ugh! Yes, dear Grace, I – the apple pie-faced rule-follower who would grow to become an enforcer of the law and a minister of the gospel as an adult – turned into a shoplifter that day.
I like that word "courtesy". Although it doesn't appear in the list of the fruit of the Spirit in Galatians 5:22–23, it's a word that should be lived out in the life of every believer. The Apostle Peter wrote in his first epistle, "Finally, all of you be of one mind, having compassion for one another; love as brothers, be tenderhearted, be courteous; not returning evil for evil" (1 Peter 3:8–9a NKJV). The Greek word translated "courteous" in this verse is related to the Greek words that are translated humble and lowly elsewhere in Scripture. Hmmm … courteous, humble, lowly. The idea is of putting others before self. The Bible says a lot about this concept – nowhere more directly than in Philippians 2:3, where the Apostle Paul writes, "Let nothing be done through selfish ambition or conceit, but in lowliness of mind let each esteem others better than himself" (NKJV). Two verses later, Paul writes, "Let this mind …" – the mind of verse 3, that lowliness of mind that esteems others better than self – "… be in you which was also in Christ Jesus" (Philippians 2:5 NKJV). Imagine with me, Church, the impact we might have on our community if we were to truly live this way – thinking of others before ourselves in every situation. Wow! Oh, dear Father in heaven, may my pride and selfishness be stripped away. May the needs of others be more important than my own. Transform my mind into the mind of Christ, and may the heart of Jesus be lived out in me. And to You, and only You, be all of the honor and the glory. Amen.
Starting this Sunday, Children's Church will be offered for children in Kindergarten to 5th grade during the 9 AM service. Thank you to those who have volunteered to serve for this purpose during the early service. Unfortunately, more teachers and helpers are needed before we can offer a nursery or a program for toddlers at 9 AM. As a matter of fact, you may not know it takes two teachers in each classroom every week for a nursery and a toddler class to happen. That means we need an additional 16–20 people (depending on the number of Sundays in a particular month) who are willing to love on children and pour into their lives by teaching them the truths of Scripture. This is a service opportunity, and I encourage you to pray about how God might use you in this area. Of course, all children's programs will remain available during the 11 AM service.
Also, our Annual Easter Egg Hunt is fast approaching. The date is Saturday, April 1 from 11 AM – 1 PM. This is a huge community outreach, and we are excited about the day. Please be in prayer for a successful day of ministry. We are still in need of people to help in the following areas: hiding Easter eggs, helping with set-up, and manning the cupcake table and the Bible giveaway booth. Please stop by the Children's Ministry table on Sunday to sign up to serve or to have any questions answered.
Despite dipping my toe into the waters of criminal activity so many years ago, by God's grace I was able to avoid becoming a juvenile delinquent in my youth. And it will be by His grace, too, that I become better each day at putting the needs of others – my wife, my dad, my children, my neighbors, the staff, my church family, and even the driver who cut me off this morning – before my own. Surely, it will take a wonderful work of the Spirit to make this happen. Do Your work, Lord, in me and in all of us.
Thanks for reading, Church. You are so deeply loved.
Steve
02.24.23
Hi, dear Grace!
First, let me thank all of you for your very kind welcome on Sunday. After ten weeks away, it sure was good to be back and to see so many of you. What a blessing you are to me and my family!
Fifty-four years ago next month, Frank Sinatra released a song that included the following lyrics – "Regrets … I've had a few. But then again, too few to mention." The song is called "My Way". It's not exactly the anthem of the Christian life. Rather, the words of the song reflect a man giving himself a pat on the back for getting through life successfully by doing things his own way. So why do I begin this week's post with these lyrics? Because regrets have been on my mind a lot recently. Let me explain.
During my recent leave, I was talking to someone about stressors and responsibilities and the strong desire to be right in my decision-making. After listening to the stream of consciousness that was spilling out of me, this person responded, "Instead of looking at all of this from where you sit now, work ahead in your mind to twenty or thirty years down the road." He then challenged me with this question: "What regrets do you not want to have in twenty to thirty years?"
Obviously, our conversation centered on my current situation as a caregiver to an aging parent and how that situation affects me now and into the future. It's been many weeks – perhaps even months – since this conversation took place, yet I cannot escape his question to me. Yes, I have thought much about the question in light of my circumstances at the moment. But the question doesn't simply apply to my dad's care; it applies to every area of my life. I have considered this question as it relates to my marriage, to my children, to my health, to the ministry. It has caused me to evaluate my priorities, to reconsider some expectations I have of myself, and to reaffirm God's call on my life. Perhaps the question will be helpful to you as you deal with your own circumstances. Just know answers may not be easy to come by initially.
About regrets, the Apostle Paul wrote, "For the sorrow that is according to the will of God produces a repentance without regret, leading to salvation, but the sorrow of the world produces death" (2 Corinthians 7:10 NASB). In a previous letter, Paul had confronted his readers with a sin issue. Their response? Godly sorrow, which produced a repentance that results in salvation and comes with no regret whatsoever. In contrast, worldly sorry leads to longstanding guilt, shame, and even death. Thanks be to God, who is a forgiver of sins when godly sorrow and true repentance take place. In Him is no regret. Praise the Lord!
Don't forget the conversational evangelism class that will take place after the second service this Sunday. The purpose of the class is to provide you with tools to share the good news of Jesus Christ with others in a non-threatening way. Thanks to David Spahr and Dave Homiak for leading this effort. Lunch and child care are provided.
Also this Sunday after the second service, there will be a meeting for those who are interested in going to Kenya for a short-term missions trip in November of this year. Questions will be answered, and an itinerary will be provided. Again, lunch and child care are provided.
Thank you for reading, dear Grace. As we ponder our answers to the above question about regrets, may we seek to be faithful to the Lord in each moment. To Him be the glory.
You are so, so loved.
Steve
02.17.23
Hi, dear Grace!
Did you miss me? Haha! I returned to the office on Monday (February 13), and it sure is good to be back! Thanks so much for your prayers, calls, cards, texts, words of encouragement, meals … the list could go on! I am returning much healthier than when I left, and your support over the past ten weeks is a big reason why. I'll talk more about my leave at a later time, but something else is on my mind today. Read on for more.
While I was away, I missed celebrating and/or recognizing some pretty big events with you. There were birthdays (my dad, my own, my Savior 😊, my pastor, my wife, and many others), holidays (Christmas, New Year's Day, MLK Day), weddings (Christina, Alli), disasters (earthquakes, mass shootings, and weather-related events), and some sad remembrances (the anniversary of my mom's death being the biggest for me). There was also plenty of news in sports (the College Football Playoffs, the Super Bowl, my introduction to pickleball) and some news on the injury front (sadly related to the aforementioned introduction to pickleball). But since I arrived back to the office on Monday, I didn't miss Valentine's Day. For the sake of your marriage, husbands, I sure hope you didn't miss Valentine's Day either! Anyway, Valentine's Day – rather, a particular Valentine's Day gift – is the subject of today's post.
Thirty-six years ago on Valentine's Day – that would be February 14, 1987 – I was teaching 4th grade at a Christian school while Blair was finishing up her Bachelor's degree and waitressing part-time. We were living in a small mobile home, totally poor, and happy as could be. Oh, and we were also celebrating our first married Valentine's Day. Now before I continue, let me make one thing clear. Up until Valentine's Day 1987, my gift-giving skills were never in question. Gifts to Blair on her birthday or on special days were never expensive, but they always made her feel loved. Sure is funny how the second most expensive gift I ever gave her up until then – the first most expensive being a modest diamond engagement ring – is the gift I'm still reminded of way too often as the worst Valentine's Day gift ever. As you continue reading, dear Grace, please extend me plenty of grace and understanding.
As I shared, Blair and I had very little in our first year of marriage. Even so, we were really happy and loved being married. It was important to me to make that first Valentine's Day a special one. However, I also wanted to be practical, since we were in no position to waste money. This was back when I tried to pay for everything in cash. Any time I received a dime in change, I would put it in a jar. Over time, those dimes added up to enough money to go out on a dinner date. They would have added up more quickly if I had saved all of the quarters, nickels, and pennies with the dimes, but we needed those coins in order to meet our budget. Anyway, that year I decided to couple a special gift with a practical gift. (At the time, it seemed like a good idea.) So what gift did I come up with to present to my dear wife on Valentine's Day? I'm embarrassed to type these next words … It was a vacuum cleaner! Yes, Church, for my first married Valentine's Day I bought my beautiful, sweet, loving Valentine a vacuum cleaner! My expectation of hugs, kisses, and a debt of gratitude was immediately dashed to smithereens. Instead, I was greeted with hurt and deep disappointment. Instead of appreciating me for my practicality, Blair interpreted a vacuum cleaner as a criticism of her housekeeping skills. To be clear, that was absolutely NOT my intention. Needless to say, the day did not end with hugs and kisses for me. On a positive note, however, I got the "dud" gift out of the way early in our marriage. There was no place to go but up from there.
Speaking of gifts, the Bible says, "… the gift of God is eternal life through Jesus Christ our Lord" (Romans 6:23b KJV). Surely, there is no greater gift, and this is the message we boldly proclaim through the preaching and teaching ministry at Grace Community Church. But it's a message you can also share with others through your faithful testimony and witness. If you are unsure about how to share your faith, I encourage you to attend a class on conversational evangelism that is being offered by Dave Homiak and David Spahr over the next two Sundays immediately following the second service. In this class you will learn how to share your faith – not in a confrontational way, but in a non-threatening, relational way. Lunch will be provided. Please know this, dear Church – God can use YOU to reach others with the gospel message. Perhaps this class will give you the tools you need to win a loved one to Christ. What a joy it would be to celebrate such an occasion with you!
Thank you for reading. I have missed you, and I look forward to seeing you on Sunday morning as we gather for worship.
You are so loved.
Steve
12.02.22
Hi, dear Grace!
Last Sunday (November 27) would have been the 100th birthday of Blair's mom. She has been gone for over five years now, but she left a lasting legacy.
Mae Montgomery Sweeney was raised on a farm in southwestern Virginia with her six siblings during the Great Depression. Her dad built a church by the creek on their property so that neighbors could gather once a month when the circuit pastor arrived for the Baptist worship service. Mae was the first Montgomery in her family to earn a high school diploma, after which she left the farm to work for the Federal Bureau of Investigations in Washington, DC. There, she met a handsome guy named Jim Sweeney, and she and Jim were married on August 20, 1949. (As an aside, I have been wearing his wedding ring for 36 years. In it is inscribed "JS to MM 8-20-1949.") May and Jim had four children, my wife being the youngest. Sadly, Jim died prior to their 29thwedding anniversary. Blair was only 17 years old then. Mae remained a widow for the rest of her life.
When she died, I was blessed to be asked to preach at Mae's funeral service. So I reached out to her eleven grandchildren and asked them for one word to describe their grandmother. All of them responded, and every word they shared was related to strength. Mae was a strong lady, and her grandchildren recognized it. After sharing each grandchild's word to describe their grandmother, I then shared my own word and preached a message out of Romans chapter 5. The Bible says, "… we glory in tribulations also: knowing that tribulation worketh patience; and patience, experience; and experience, hope: and hope maketh not ashamed; because the love of God is shed abroad in our hearts by the Holy Ghost which is given unto us" (Romans 5:3–5 KJV). That word "patience" is better translated "perseverance." Think about it – The Bible says "tribulation worketh perseverance." Mae experienced much tribulation in her life. It was not an easy life growing up on a farm in the 1920's and '30's. It wasn't easy to leave home as a young adult to find her way in the world. It wasn't easy to be a widow for so many years. And yet she persevered!
Perseverance is one of my favorite words in all of the Bible. As believers, God is calling us to be faithful in the moment and persevere through the tribulation and trials of life. Mae is an example of that to me. I want to be better at it, and by God's grace I shall. As I step away from the ministry for just a little while, thank you for your prayers for me and my family. I hope to return healthier and better prepared to serve you, dear Church. Please pray to that end.
Keep watching this space, as Stacey will be scheduling guest writers to share with you in my absence. If you are interested in contributing to my Friday post while I'm gone, please contact Stacey directly. Also, midweek prayer on Wednesdays will continue to happen. Thanks to David Spahr, David Houck, and Seth Shirley for their commitment to our weekly prayer service.
I love you, Grace. You are a blessing to me and my family. May God bless you with a wonderful Christmas season.
Humbly,
Steve
11.25.22
Hi, dear Grace!
It was almost two weeks ago that I preached a Thanksgiving message using Psalm 136:1 as our theme. At the conclusion of the service, we read the entire Psalm – all 26 verses – together as a responsive reading. I then challenged you to write your own Psalm 136 – your own psalm of thanksgiving – and share it with someone. Here's mine. I am blessed to share it with you today.
Pastor Steve's Psalm 136
Give thanks to the Lord, for he is good.
His love endures forever.
In the beginning He already was.
His love endures forever.
And even then He already loved me.
His love endures forever.
He loved me even in my sin.
His love endures forever.
And even when I was still in my sin, God sent His Son to die for me.
His love endures forever.
He blessed me with incredible parents –
His love endures forever.
a Marine for a dad and a Mama Bear for a mom –
His love endures forever.
who nurtured me, disciplined me, and taught me right from wrong.
His love endures forever.
He blessed me with two awesome brothers –
His love endures forever.
and memories of a wonderful childhood.
His love endures forever.
He saved me through the ministry of Pastor Carmon Hartsfield and Landover Hills Baptist Church –
His love endures forever.
where my family grew in faith, grew in grace, and grew in the knowledge of God and His Word.
His love endures forever.
Through my family, through the church, through my Christian school, and through Bible college –
His love endures forever.
through sports, through friends, and through life –
His love endures forever.
godly men poured into me.
His love endures forever.
By God's grace, their investment prepared me for adulthood, for marriage, for parenthood, for work, for ministry, and for now,
His love endures forever.
By His grace, God prepared me even for loss.
His love endures forever.
Yet by His grace, I will see my mom again – and my brother and others.
His love endures forever.
God blessed me with the perfect wife –
His love endures forever.
a true help meet, and truly the better half of me.
His love endures forever.
He blessed me with two amazing children.
His love endures forever.
My love for them has taught me how much the Lord must love me.
His love endures forever.
He allowed me to work what I thought was my dream job for 25 years –
His love endures forever.
and watched over me in some really dicey situations.
His love endures forever.
He called me to what I have learned is my dream job –
His love endures forever.
to you, dear Grace –
His love endures forever.
with a pastor I love, a staff I adore, and a people I am humbled to serve.
His love endures forever.
By His grace, my cup overflows with blessing.
His love endures forever.
Because of His grace, my heart overflows with thanksgiving.
His love endures forever.
To Him be the glory forever.
His love endures forever.
Give thanks to the God of heaven.
His love endures forever.
Sunday begins our Advent season, and Christmas is around the corner. There is much happening at Grace through the month of December. Take advantage of it all, if you can. You will be blessed if you do.
I pray you had a wonderful Thanksgiving, Church. There really is so much for which to be thankful. May God bless you today and all through the Christmas season.
I love you.
Steve
11.18.22
Hi, dear Grace!
Next to the desk in my office is a corkboard on the wall. On that corkboard is my calendar. It sure is packed with meetings, events, plans, and opportunities. Looking at it makes me feel busy. There are checklists, reminders, appointment notices, a newsletter, and a Building 4 Impact update on that board, as well. Hmmm … nothing fun yet. Ah, but then there are things that bring a smile to my face. There's a paper tie, decorated in bright crayon colors, stickers, and gems. It was gifted to me by Naomi on Father's Day this year. What a blessing to me! I smile when I see it. There's a painted drawing by Charlie, coloring pages from Asher and Emelia, and crafts and cards from other children of Grace. All are precious to me. I'm smiling again. Oh, there's a small, square card with a mustard seed glued to it and the words, "Sow the seeds of the Gospel wherever you go." Verses out of the Gospel of Mark from the parable of the mustard seed are highlighted on that card. I was humbled by the dear lady of Grace who gave it to me. More smiles here. And then there is a card with a quote by Andy Rooney. You remember Andy Rooney, right? He served for 33 years as a commentator on the CBS news program 60 Minutes. The card is from my wife and says this, "No one is perfect … until you fall in love with them." Big, big smile now.
I'm not perfect. I think I made that clear last week. But I'm glad to know my wife thinks I am. Regarding perfection, the Bible says, "My brethren, count it all joy when you fall into various trials, knowing that the testing of your faith produces patience. But let patience …" - the NIV uses the word perseverance – "… have its perfect work, that you may be perfect and complete, lacking nothing" (James 1:2–4 NKJV). Think about that, Church. Trials in my life are for the purpose of testing my faith. The testing of my faith produces perseverance. The result of perseverance is a stronger faith that leads to "perfection" (which is better interpreted as maturity in Christ). I want that! But very often, I don't want the trials that test my faith that produces the perseverance that leads to the maturity I so desire. I just want maturity, holiness, and perfection to happen without the trials. Surely, I'm not alone in this. But here's the analogy I often use – The guy who wakes up one day and decides he wants to be the next Michael Jordan doesn't go to the gym once, shoot a few baskets, and turn into Jordan overnight. It takes years of hard work – years of missing shots – years of getting knocked down and getting back up again for another go at it. And just like we can be thankful IN all circumstances, we can have joy in times of trial. God is still doing a perfect work in all of us, Grace. Praise Him!
Today, a wonderful group of Grace people gathered at the church to load our Operation Christmas Child shoeboxes into vans, trucks, and SUV's and transported them to the Island drop-off center. The final number is in. I'll share it with you on Sunday. Stay tuned.
As a reminder, I challenged you last Sunday to write your own Psalm 136. This will be your psalm of thanksgiving to the Lord. When you are done, please share it with someone. I'll share mine with you next week.
Happy Thanksgiving, everyone! There is much for which to be thankful. I surely thank God for you, dear Grace. You are so loved.
Steve
11.11.22
Hi, dear Grace!
I'm drawing from my basketball archives for this one. Thirty-nine years ago this month – can it really be? – I was a junior at Washington Bible College and playing forward for the men's basketball team. We had traveled to Clarks Summit, PA, as we did every year to play in a pre-season tournament hosted by Baptist Bible College. Eight teams participated in that tournament, to include Lancaster (PA) Bible College, Philadelphia (PA) College of the Bible, Valley Forge (PA) Christian College, Circleville (OH) Bible College, Cincinnati (OH) Bible College, and Fort Wayne (IN) Bible College. We won our first-round game handily and landed in the winner's bracket. Unfortunately, we lost in the second round to Baptist. Neither game is consequential to this post, however. It's that third game – the consolation game – and, more specifically, the end of regulation, that I draw your attention to. Our opponent? Fort Wayne. The score? I don't recall, but the game was tied. Time left in the game? 00:03. (That's three seconds to anyone unfamiliar with a game clock.) Situation? Timeout. Our possession. Coach is drawing up the play in the huddle. Feeling among the team? Total confidence. The result? Keep reading, dear Grace. I'll get to that.
We were taking the ball in from the sideline on the other side of half court right in front of Fort Wayne's bench. Tim Fowler was throwing in the ball. I was at the left elbow at the top of the key. Fort Wayne was playing a man-to-man defense (as they should have). As I recall, my guy was between me and the basket. When the referee blew the whistle and gave Tim the ball, my defender surely thought I was heading toward the low post to set a pick. Big mistake, since the play was designed to go to me. I posted the guy up right there at the top of the key. Tim fired a perfect pass, which I stepped toward to retrieve. When it hit my hands, I heard my defender say, "Oh, no!" At about 19 feet from the basket, I took one dribble with my back still to the player guarding me before lofting a turnaround jump shot over the guy's outstretched arm. The natural fadeaway turned a 19-foot jump shot into a 22-foot jump shot, which would have been beyond the 3-point line had I played today. (Yes, kids, I played my college ball when there was no 3-point line.) I felt so good when that ball left my fingertips. It was a buzzer-beater for the win … until it wasn't. The ball clanged off the back of the rim, and we ended up losing that game in overtime.
You know, I don't often think about the shots I made. There were some big ones, for sure. But the shots that come to mind most often – the ones that haunt me – are the shots I didn't make. I don't recall ever taking a shot that I knew I would miss. That's because I expected to make every shot I took. But the truth is, the average NBA player misses more shots than he makes. As a matter of fact, the average shooting percentage in the NBA last year was 46%. Does that surprise you? Worse than that is the average batting average for a Major League Baseball player. To be considered an exceptional batter in the MLB, a player will record an out seven times in 10 plate appearances. Think about that! A player to whom teams are willing to pay millions of dollars per year only has to get three hits in every 10 at-bats!
I hate failure. I hate not living up to my end of the bargain. I hate letting people down. I let my team down by missing that shot against Fort Wayne, but it only motivated me to get better. And yet here's the thing – Even though I got better, I still missed plenty of big shots in my collegiate basketball career. And I still miss plenty of shots today, too. No, I'm not talking about missing shots on a basketball court anymore, but in so many other areas of life. This may surprise you, dear Church, but I continue to "miss shots" … continue to fail … continue to let people down every day. Maybe that's why I'm drawn to the Lord so much … why I need Him so deeply … why I long for Him to have His way in me. I absolutely love the verse that says, "My flesh and my heart may fail …" – along with my jump shot, my support, my promise, my plans, my (fill in the blank here) – "… but God is the strength of my heart and my portion forever" (Psalm 73:26 ESV). Yes, I will fail to meet my own expectations of me. Sorry to say, but I may even fail you and your expectations from time to time. But please read these next words slowly – GOD – WILL – NEVER – FAIL – YOU. Praise Him, dear Grace, and press into Him! May He be our strength and may He be enough – loosely, that's what "our portion" means – forever!
Matthew returns from his final week at the Soul Care Institute today. Please pray for a safe flight home and a wonderful reunion with his family.
This Sunday, we begin a two-week Thanksgiving series. I'm excited to be sharing the message this week. Thanks in advance for your prayers as I put the final touches on the message.
We will also be praying over our Operation Christmas Child shoeboxes on Sunday. While the final number won't be confirmed until the following week, the Steve Salvas goal for OCC is 500shoeboxes. I'm keeping the faith here, Church! Haha! Please bring your boxes with you on Sunday so that we can include them on stage for our time of prayer.
To all of our military veterans, THANK YOU! May God bless you for your service to our nation. And to all of the family of Grace, thanks for reading. You are deeply, deeply loved.
Steve
11.04.22
Hi, dear Grace!
For the past 36 years – that's as long as Blair and I have been married – we have purchased a vehicle based on family need. When we first got married, Blair was driving an old 4-speed Datsun B210, while I was driving a 1981 Chevy Chevette. My Chevette was in pretty good condition, but Blair's Datsun was on its last legs. We therefore traded it in for a Ford Escort, which was a good first car for the newly married us. It was all we needed, and it was all we could afford. After our daughter came along – but before the birth of our son – we purchased an Escort wagon. It had more room for car seats, play pens, and everything else that comes with having children. Years later, that wagon was traded in for our first minivan … which was later traded in for our second minivan. (As an aside, that second minivan – a 2001 Ford Windstar – became the vehicle Andrew drove back and forth to college. It also limped to Hilton Head Island with us when we moved here. I may talk more about that van in a future post.) Because Blair loved sitting up high and the room that a minivan provided, we later bought her a Toyota Sienna with all the bells and whistles. Blair was in love with it. To her deep chagrin, however, that vehicle was totaled in an accident. (Thank You, Lord, for watching over Blair and Andrew that day.) All of this leads to the vehicle she drives today – another Toyota Sienna, not as nice as the previous one but just as reliable. It's getting up there in mileage and in age today, but it's been a good vehicle for the longtime married us. As for me, car-buying has been pretty easy. That '81 Chevette is a good indicator of what I used to drive back-and-forth to work every day. As a matter of fact, including the Chevette there were a total of only three vehicles for me – all used, all small, all deathtraps, and all driven until they screamed to be put to rest. But in October 2001, things changed. Let me explain.
For the twenty-five years prior to my arrival at Grace, I served as a police officer in Southern Maryland. One of the best days after graduating from the police academy and completing field training is the day a new officer is assigned an Agency vehicle. And one of the best perks of being a police officer is the Agency vehicle take-home policy. Yes, if an officer lived in the jurisdiction where I served, he or she could take their Agency vehicle home, park it in their driveway, use it to run errands in the County while off-duty, and so on. They could even drive their family to church or to school or to a ball game. It was great! The problem? I lived outside of my jurisdiction. I therefore had to go to and from work in my used, small deathtrap that was screaming to be put to rest … that is, until I moved into the County in October 2001. (Cue heavenly choir music here.) Free vehicle. Free gas. Free oil changes. Free repairs. Free insurance. Sure, there are trade-offs. The policy was put into effect to promote more police vehicles on the County roadways. How many times did I make a traffic stop while off duty? Or handle an accident scene? On one occasion I even dropped Blair and our kids off at the public library so that I could respond to an emergency call for service in the area. But still, it was awesome!
As I got closer to retirement, I started looking forward to purchasing my own vehicle. Driving a police vehicle is great, but the thought of purchasing a non-used (i.e., new), non-small (i..e., mid-sized or bigger), non-deathtrap (i.e., safe and solid), non-screaming (i.e., a full life to give) vehicle was exciting to me. It would be a gift to myself after a wonderful career. And then, I went car-shopping for the first time in many years – not for family need, but for me. It didn't go well. I entered the dealership with a lot of confidence. I left without a new car. I have heard of sticker shock, but I never experienced it firsthand until that day. All of this brings me to the point I want to make today.
The cost of a new vehicle is expensive. But you know what? So is the cost of discipleship. I loved Matthew's message on Sunday. Toward the end of chapter 8 in the Gospel of Mark, the Bible says, "And He summoned the crowd together with His disciples, and said to them, 'If anyone wants to come after Me, he must deny himself, take up his cross, and follow Me. For whoever wants to save his life will lose it, but whoever loses his life for My sake and the gospel's will save it'" (Mark 8:34–35 NASB). The cross was a symbol of humility and death. When a man was sentenced to crucifixion in Rome, he carried his own cross to the place of execution. It was a one-way ticket; there would be no return. And there were people along the route who would see this. To take up your cross, then, is a pronouncement to the world that "I no longer live, but Christ lives in me" (Galatians 2:20). My allegiance is to Him, and ALL of me – my life, my will, my possessions, my goals, my everything – is His. Expensive? Sure, it is. Worth it? Absolutely!
Thanks to all of you who participated in Trunk or Treat last Sunday. It was a tremendous event. Hundreds of children and their families came for food, fun, and games. Many were introduced to Grace for the first time. If you see Charlynn or Andrew, please express your appreciation to them for their great work in making it all happen.
Our men will be gathering tomorrow morning at 9 AM at Legendary Golf for breakfast and a mini-golf tournament. The cost is $10 per person.
This Sunday is Missions Sunday. There will be ONE SERVICE at 10 AM, and it's going to be special. I hope to see you there. By the way, don't forget to set your clocks back one hour before you go to bed on Saturday night.
Operation Christmas Child is coming to a close. There are only two more weeks to turn in your filled shoeboxes. From what I hear, 109 boxes have been filled and returned so far. Thanks to ALL of you who are participating in this wonderful missions opportunity to reach children with gifts and the gospel.
Tuesday is Election Day. Before you vote, please pray. After you pray, be sure to vote. And after you vote, please pray more. Thank you, Grace.
Oh, last week I registered my dad's 2004 Toyota Highlander with the SC Department of Motor Vehicles in my name. No new car for me in the foreseeable future, but that's okay. I am thankful for God's provision and His timing. He is so, so good.
Thanks for reading to the end, dear Grace. You are deeply loved.
Steve
10.28.22
Hi, dear Grace!
I love to read. Recently, however, my reading sparked a comment from my wife that I just can't shake. You see, Blair and I read differently. While I read books, Blair studies them. Along with her book, she has a highlighter, a pen, and a notebook with her when she reads. Currently, she is reading/studying two different books. The first is a book for women based on the Titus 2 model of older women coming alongside younger women to encourage them in their roles as thriving people in the church and the home. She has been "reading" this book for months. The second is a book on faith by a former professor we had at Washington Bible College. I am excited to read this book when she is done, but I'll probably not have it for myself until sometime in 2023.
So about that comment Blair made. Each night, I read aloud a devotional for married couples before we go to bed. Admittedly, however, sometimes we miss a night. Because it's a year-long devotional, I may therefore read two devotions on another night so that we finish by the end of the year. Blair doesn't like that. She would rather read one devotion and discuss it, digest it, and master it before moving on. (Huh? My brain says if it's a 365-day devotional, then we have to complete it in 365 days. Blair's brain definitely doesn't work like mine.) So while I contend that Blair takes forever to read a book, not because she is a slow reader but because she squeezes everything out of it that she can – not a bad thing, by the way – she accuses me of not reading books but conquering them. Ouch! But you know what? The truth hurts. If Blair is reading a book she doesn't like, she stops reading it. To be honest with you, I cannot do that. If I start a book, I WILL finish it – even if I hate it. Yes, I guess that means I will conquer that book. (Wow! As I read those words back to myself, it sounds so dumb!)
But what about my daily Bible reading? Do I go into my reading of God's Word in the morning with the thought that I just have to get it done before I start my day? If so, I'm wasting my time. Time spent in God's Word should be the most important part of my day. But Blair's comment to me has me thinking – Do I read my Bible simply to get it over with, or do I read my Bible to spend time hearing from the Author of the Book I'm reading. Is my Bible reading an item to be checked off a list of things to get done, or is it an investment in my walk with Christ? Am I conquering my reading of God's Word, or am I allowing God's Word – through the power of the Holy Spirit – to conquer me? Having asked myself these questions and examined my own heart, I now approach my Bible reading more purposefully. It's too important to be a checklist item that I squeeze into my already-packed day. Rather, it's a time to be prioritized. If any of this resonates with you – if you approach your Bible reading with the intent to conquer it or to just get it done – I encourage you to be more purposeful and to make it more meaningful. May God bless you as you examine your own heart about these things.
The Apostle Paul wrote to the church at Rome, "In all these things we are more than conquerors through Him who loved us" (Romans 8:37 NIV). Think about that. You, Christian, are more than a conqueror. The Greek word literally calls you an "over-conqueror." And Paul, under the inspiration of the Holy Spirit, isn't talking about conquering books. No, he is talking about conquering "all these things," which are identified in verse 35 as trouble, hardship, persecution, famine, nakedness (i.e., poverty), danger, and sword. Paul's purpose here is to encourage you, faithful believer, in knowing that overwhelming victory awaits you today (because nothing can separate you from God's love) and in the future (because nothing can separate you from eternity with the God Who loves you). Praise Him! Of course, don't forget the two most important words in this verse, "… through Him who loved us" – that is, Jesus. It is only through Him that victory will ever be ours. Praise Him again, dear Grace! I encourage you to read Romans 8:35–39 for yourself. You will be blessed when you do.
Trunk or Treat is this Sunday, October 30 from 4:30 – 6:30 PM here in the parking lot of the church. There will be free food, some games, and plenty of candy. As I write these words, there are twenty-six (26) vehicles signed up to participate. Our goal is forty (40), so if you are available to join us, I hope to see you there. The link to sign up can be found in the Grace Weekly E-newsletter. If you cannot come, please pray for a great turnout, good weather, and strong connections with people from our community.
In lieu of the Saturday morning men's breakfast here at the church, our men will gather at Legendary Golf on Saturday, November 5 for breakfast and a putt-putt tournament. Legendary Golf is located at 900 William Hilton Parkway, Hilton Head Island. The cost is only $10. It should be a good time of food, fellowship, and fun.
The mission of Operation Christmas Child is to demonstrate God's love in a tangible way to children in need around the world. There is a little more time left to pack a shoebox with gifts for a child this Christmas. You may do so by picking up a box at the OCC table this Sunday, or you may pack a box online by clicking this link – https://build-a-shoebox.samaritanspurse.org/view/08aac289-8cf1-4a27-809a-226ea9e3421e. Please note online boxes must be packed by Saturday, November 5. However you choose to participate, thank you for your support of this wonderful ministry.
I better stop writing now. If we are going to finish this devotional for married couples by the end of the year, I need to read a couple devotions to Blair before going to bed. (Just kidding, Honeybunch.)
Thanks for reading, dear Grace. Know for certain how loved you are.
Steve
10.21.22
Hi, dear Grace!
Have you ever recommended something to a friend? Maybe a great book? Maybe a good movie? Maybe a new restaurant? And has that friend ever come back to you and said that book, movie, or restaurant was just okay – or worse?
I have a tendency to talk up stuff I like. If I read a great book, I want everyone to read it and get the same blessing out of it that I got. If I see a good movie, I want everyone to see it and enjoy it as much as I did. If I try a new restaurant and experience quality service and mouth-watering food, I want everyone to try it and have the same experience I had. Of course, everyone has their own preferences and tastes, so not everyone is going to like what I like. While I understand that in my head, it's hard to accept sometimes. (What? You didn't like it? Do we have anything in common?!?!)
For the past several weeks, I have been talking up Sunday, October 16. I said over and over that it would be the best day of the year. To those of you who were here Sunday, tell me – Did I oversell it? Did all of the hype exceed reality? Is there a chance you were disappointed in the day? Was it just "okay" to you? Let me recap the events of Sunday for you – Nineteen (19) people were introduced as new members to the family of Grace. Yes, nineteen people! Wow! Later in the day, over one hundred (100) people gathered for an all-church picnic at Driessen Beach Park. The food was good, but the real blessing was the fellowship ... and the singing … and the testimonies. Ah, the testimonies! After we ate and after we sang, thirteen (13) people covering every area of life – from children to teens to young adults to thirty-somethings to forty-somethings to sixty-somethings – shared why they wanted to be baptized. One by one, they professed their faith in Jesus Christ as their Lord and Savior. Oh, what a joy to hear! Of course, all of this was followed by a walk to the beach, where these thirteen people were baptized in the cool – some would say verycool – waters of the Atlantic Ocean. Praise Him, dear Grace!
Admittedly, we did have a baptism service back in May of this year, so perhaps it's best to say Sunday, October 16 is TIED for the best day of the year. Haha! Either way, I don't believe I oversold anything. Sunday was an amazing day and is one I will never tire of. As a matter of fact, I'm already looking forward to our next baptism service. YES!!!!
David, declaring his unwavering faith in our God Who alone is worthy of our praise, wrote these words – "One thing I ask from the Lord, this only do I seek: that I may dwell in the house of the Lord all the days of my life, to gaze on the beauty of the Lord and to seek him in His temple" (Psalm 27:4 NIV). All David wanted was to bask in the beauty of God's presence every day of the rest of his life. This was his only request. It was all he sought. Having considered the words of David, I can't help but mull over the following questions – Was I in the presence of the Lord on Sunday at Driessen Beach Park? (Yes!) Did I feel His presence as I enjoyed the fellowship of like-minded believers at the picnic? (Yes!) Was I moved by His presence as I listened to the testimonies of those who were going to be baptized? (Yes!) Did I bask in His presence as I had the privilege of sharing in the baptisms of Luke W, Nolan, Jackson, Eevie, Olivia, Adyson, Conner, Caroline, Jessica, Nam, Luke B, Karen, and Jim? (Yes!) And did I witness His beauty as I stared at over 100 of you and many other dear friends of Grace on the shoreline with the sun setting behind you? (Absolutely yes!) With that settled, let me ask one final question – Can you imagine every day being like Sunday? David could, and he desired it. I desire it, too – for me and for all of us. Oh, Father in heaven, may David's desire be our desire. May every day feel like Sunday felt to me. May I – may we all – bask in the beauty of Your presence daily – whether we are gathered in corporate worship or whether we are alone. And thank You for the promise of Jesus that He is with us always. We praise You for that, Lord! Amen.
If you are interested, several of us from Grace will be taking CPR/AED training at the Hilton Head Island Fire & Rescue Headquarters, located at 40 Summit Drive off of Dillon Road, on Tuesday, October 25 from 10–11 AM. As one person said to me recently, you don't know how important such training is until an emergency presents itself right in front of you. There is a maximum number of people who can attend the training, so please contact the church office if you would like to reserve your place.
In a little over a week, Trunk or Treat will be here. The date is Sunday, October 30 from 4:30–6:30 PM. Please consider signing up to participate. Trunk or Treat is intended to be a fun event for the children of Grace, while at the same time being an outreach event to children in our community. There will be free food, some games, and lots of opportunities to make every child feel loved and welcome. If you have any questions, please contact Charlynn Bonham or Andrew Cannell.
Thanks to all of you who are supporting Operation Christmas Child this year. Several of you have already turned in your filled shoeboxes. Awesome! As I said on Sunday, these boxes are filled with the two G's – Gifts for a child who may not otherwise receive a Christmas gift this year, and the Gospel to point that child to Jesus. Remember, too, that you can pack a shoebox online by clicking the following link – https://build-a-shoebox.samaritanspurse.org/view/08aac289-8cf1-4a27-809a-226ea9e3421e. It's easy, and it's fun. Thank you again for participating in this wonderful ministry.
So here's a good movie recommendation for you, dear Grace. Blair and I love this movie, and I know you will, too. It's called Seven Days in Utopia. You can find it on several streaming platforms, or you are welcome to borrow the DVD from me. Seriously, this movie has the BEST ending of any movie I have ever watched. I look forward to your thoughts after you see it.
This Sunday, I'll be continuing our preaching series through the Gospel of Mark. Sure hope to see you there.
You are so loved.
Steve
10.14.22
Hi, dear Grace!
Thank you for your prayers as Blair and I were away last weekend. The wedding was beautiful, and my challenge to the bride and groom was very well received. Keith loved the NASCAR angle – Haha! It was really good to see so many friends from our former church. Blair and I had a great time, but we sure are glad to be home.
Because of the twenty-five years I spent in my former profession, I am an observer of traffic. I was never a big "traffic guy" during my career – I was much more interested in criminal investigations – but I did write a few tickets and many more warnings in my day. But after years of patrolling the roads of Charles County and enforcing the rules of Maryland, I still notice violations of motor vehicle and traffic laws. Expired tags. Vehicle registration covered up. Headlight or taillight out. Failure to use a turn signal. Of course, the worst will always be a driver who cannot stay in his or her traffic lane. In those cases, they are likely either texting while driving or driving while impaired. It's not that I'm looking for such violations, but after so many years, it has become second nature to me.
So what would you say is the most common traffic violation I have witnessed here on Hilton Head Island since my arrival almost three years ago? No, it's not speeding. It's not being on the phone while driving, either (although that one may be a close second). Here's the answer – Almost every day, I watch someone run a red light right in front of me. Now please understand, I live 3.2 miles from the church. I don't drive far to get to the office. Therefore, in the span of 6.4 miles – that's a round trip from home to work to home again – I witness at least one vehicle run a red light almost every day. It's so bad that I have told Blair – and I suggest to all of you who drive on the Island – to wait before pulling out into an intersection when your light turns green. If the Beaufort County Sheriff's Office were to purchase red light cameras for all of the major intersections here, I can only imagine how much money would be generated for emergency responders or education or infrastructure or even – gasp! – lower taxes. More important than additional revenue, however, is how effective these cameras can be in getting drivers to stop for a red light.
On the day of Jesus' resurrection from the dead, the disciples were hiding behind locked doors when Jesus miraculously appeared before them that evening. Thomas, however, was not with them. When he heard the disciples had seen the risen Lord, Thomas refused to believe it. One week later, the disciples were again gathered together in a home. Although the doors to the home were shut and locked, Jesus again appeared before them miraculously. This time, Thomas was present. In that moment when they came face to face with one another, Jesus said to Thomas, "Stop doubting and believe" (John 20:27 NIV). I love the response of Thomas, whose words – "My Lord and my God!" – proclaim the Lordship ("My Lord …") and the deity ("… and my God!") of Jesus. (John 20:28 NIV). May that be our proclamation, as well.
To those of you who may wrestle with faith, stop your doubting. Jesus, the One Who died such a cruel death on the cross, is risen today. He is alive, and He is interceding for you. Praise Him! Are there times when you may experience a crisis of faith? Sure. Perhaps some of you are experiencing that right now. If so, I encourage you to pray the prayer of the father of the demon-possessed child, who cried out in tears to Jesus, "Lord, I believe; help thou mine unbelief" (Mark 9:24 KJV). You can be sure He will make Himself known to you. Praise Him again!
Thanks to our Director of Women's Ministries, Jessica Maples, and her incredible team for their hard work. All of the reports I heard about the Fall Women's Conference last Saturday have been very positive. Awesome!
This Sunday is Baptism Sunday. I have said it many times – Baptism Sunday is the best day of the year. I hope to see you at Driessen Beach Park at 5 PM for our all-church picnic. The church will provide hamburgers, hot dogs, and drinks. If you are able, please bring a side dish or dessert to share. The picnic will be followed by a baptism service in the waters of the Atlantic Ocean. If you come, you will be blessed.
Trunk or Treat is coming! The date is Sunday, October 30 from 4:30 to 6:30 PM. We hope to have 40 cars with full trunks of candy to pass out to children. This is an outreach event to our community. Please see Charlynn Bonham, our Director of Children's Ministries, to learn more about how you can help.
A special thanks to all of you who are packing shoeboxes for Operation Christmas Child. The goal this year, as set by my wife, is 400 boxes. As I have shared with you, however, my goal is 500 boxes. I'm smiling as I type these next words – Let's reach my goal, dear Church! Oh, by the way, you can also pack a box online by clicking the following link – https://build-a-shoebox.samaritanspurse.org/view/08aac289-8cf1-4a27-809a-226ea9e3421e. It's easy, and it's fun. Thank you, Grace, for reaching the world for Christ through the ministry of OCC.
Drivers, stop for a red light. You may avoid an accident and serious injury to yourself or someone else. And Christian, stop your doubting. The Bible is true. If you are experiencing a crisis of faith, I would love to pray for you and even meet with you. Please feel free to reach out to me anytime.
Thanks for reading, dear Church. You are so loved.
Steve
10.07.22
Hi, dear Grace!
Can it really be twenty years since I started teaching the young adult class at Grace Brethren Church in Waldorf, MD? That's hard for me to believe, but it's true. For nine-and-a-half years, you could find me and Blair at 9:00 every Sunday morning on the first floor of the E-wing of the church, feeding breakfast and God's Word to kids from 18–29 years of age. (I know they were adults, but they still felt like kids to us.) I had been teaching young adults for over five years at a sister church when our family moved to a neighboring county to be closer to my work. By doing so, we left a healthy and thriving young adult ministry to start a new ministry at the Waldorf church. I smile as I think of my first Sunday. It was August 2002. Breakfast was set up, my lesson was prepared, and ½ a person was in attendance. Yes, you read that correctly – one-half of a person showed up on my first Sunday. I say that because one person came but stayed for only half the time because he had another obligation. The following week, one person came (and stayed for the entire hour). In the weeks that followed, more started coming until we grew to over 30 young adults gathering for food, prayer, and Bible study every Sunday morning. As time progressed, many of them started getting married. As more weddings took place, a couple approached us about starting a ministry to married couples. It was an emotional transition for us as we left the "kids" we loved to take on this challenge, but it was a blessing to us.
It may be sappy to say, but Blair and I love weddings. I tell you this because as this week's entry is being posted in the Grace Weekly, Blair and I will be in Maryland for the wedding of one of the "kids" from that young adult class. Keith was a college kid back then, but he is 38 years old today and finally met the girl of his dreams. One of my greatest joys has been to participate in the weddings of people like Keith – people that Blair and I had the privilege of loving and pouring into for many years. Those relationships run deep for me. With my head filled with wedding preparation right now, I thought I would share some points with you from the message I will share with Keith and his bride on Saturday at 4:30 PM at Running Hare Vineyard in Prince Frederick, MD, where the wedding will take place. I'm still putting this together, so there may be some edits between now and Saturday due to time or to the Lord's leading on some things. Thanks in advance for your patience and grace as I get my thoughts together.
First, it's important to know that Keith is a big NASCAR fan. With that in mind, I'm going to lead with the following mnemonic device – Elliott Wins Daytona. Stenhouse Finishes Last Place. For those of you unfamiliar with NASCAR – like me – Chase Elliott and Ricky Stenhouse, Jr. are NASCAR drivers. The Daytona 500 is the biggest NASCAR race of the year. (As little as I know about NASCAR, I did know about the Daytona 500.) For someone like Keith, this mnemonic device will be easy to remember. And for a strong marriage that will last, it is important to remember. Why? Because …
"E" is for Elliott and stands for the word Encourage. Encourage one another. Every day, say something that expresses value to your spouse. They need to hear it. The Bible says in 1 Thessalonians 5:11, "Therefore, encourage one another and build each other up." This is a must in marriage. Always seek to build up your spouse.
"W" is for Wins and stands for the word Worship. Worship together. Make this a priority. It doesn't simply mean to worship in the same location, but to really worship together. Exalt the Lord together. Serve Him together. Grow in faith together. The Bible says, "I will extol the Lord at all times; His praise will always be on my lips … Glorify the Lord with me; let us exalt His name together." (Psalm 34:1, 3 NIV)
"D" is for Daytona and stands for the word Dream. Dream together. Up until your wedding day, all of your dreams were individual dreams. Starting today, all of your dreams – all of your goals – all of what you hope for in the future – are for the both of you. Amos 3:3 (KJV) – "Can two walk together, except they be agreed?" Dream together. Set your goals together. And pursue those dreams and goals together.
"S" is for Stenhouse and stands for Serve. Serve one another. The letter "S" does not stand for Self. Marriage cannot be all about me. As Christians, Jesus Christ is our model, and He came to serve. The Bible says, "Through love, serve one another" (Galatians 5:13 NKJV). Follow the model of Jesus, and serve one another.
"F" is for Finishes and stands for Forgive. Forgive one another. There are two words you should know well in marriage. They are forbear and forgive. Colossians 3:12–13 say this, "Put on therefore, as the elect of God, holy and beloved, bowels of mercies, kindness, humbleness of mind, meekness, longsuffering; forbearing one another, and forgiving one another … even as Christ forgave you, so also do ye." There are little issues that are not sin issues, but they still irritate. Squeezing the toothpaste tube from the middle of the tube instead of from the bottom is not a sin issue. I must forbear the little things. That means I must bear with or put up with those things. Forgiveness isn't necessary for such occasions – only love and grace and much forbearance. Forgiveness is for the sin issue. I have been forgiven much by God. I must therefore forgive others – including my wife.
"L" is for Last and stands for the word Love. Love one another. The best definition I have ever heard for the word "Love" is this one by Dr. Tim Kimmel, who wrote a book called Grace-Filled Marriage – "Love is a commitment of my will to your needs and best interests regardless of the cost to me." Love is not limited to a feeling. Feelings come and go. But my commitment to love my wife will never go away. In Jeremiah 31:3, the Lord is speaking and He says these words – "I have loved you with an everlasting love." Love your spouse like the Lord loves you!
And finally, "P" is for Place and stands for the word Pray. Pray FOR one another, and pray WITH one another. Take the words of the Prophet Samuel seriously – "Moreover as for me, God forbid that I should sin against the LORD in ceasing to pray for you" (1 Samuel 12:23 KJV). I promise if you pray for one another and with one another, you will experience more closeness in your marriage – more intimacy in your marriage – more romance in your marriage – and more blessing in your marriage. Pray for your husband. Pray for your wife. And pray with one another. You will be happier in marriage if you do.
As I said, there may be some edits between now and 4:30 on Saturday afternoon, but this is where I am right now. I'm excited about it. But more importantly, putting this together has been a good reminder to me of my own responsibility to Blair. Perhaps it will be a good reminder for those of you who are married, as well. I sure hope so.
A lot of work and a lot of prayer have gone into the planning for tomorrow's Fall Women's Conference. Thank you to Jessica Maples and to ALL of those who pitched in to make this event a reality. To those of you who are attending the conference, I am praying for you. To those who cannot attend, please pray with me for a great day of worship, fellowship, and solid teaching for our women. I am excited to hear testimonies that come out of the conference.
I am also excited about Baptism Sunday next week at Driessen Beach Park. We will begin with an all-church picnic, followed by a celebration of those who are publicly professing their faith in Jesus Christ through baptism in the waters of the Atlantic Ocean. Praise the Lord!
Our church has partnered with the Hilton Head Island Fire and Rescue Squad to bring CPR training to Grace. Dates are being scheduled now, but the first is set for Tuesday, October 25 at 10:00 AM. The training is free and lasts for one hour. You will learn CPR and how to use the AED in the event of an emergency. Please contact me or the church office if you are interested in attending.
Trunk or Treat is several weeks away. It is scheduled for Sunday, October 30 from 4:30 – 6:30 PM. There will be free food (hamburgers, hot dogs, and chips) and plenty of candy for children in our community. This is an outreach event. Please pray about how you can participate. Thanks so much.
Blair and I will miss seeing you on Sunday morning, as we are returning home late that day. Thanks for your prayers as we travel.
How loved you are, dear Grace!
Steve
09.30.22
Hi, dear Grace!
I have always liked to write. However, I never kept a journal – ever. This week's post feels like a journal, though. That's because I started jotting notes for it on Tuesday. I starting writing on Wednesday with another thought in mind. I then started it again yesterday. It's Friday morning now, and I need to get this entry to Stacey in time for the Grace Weekly. Since it might interest you to know how my mind works as I write, I thought I would share the evolution of my weekly post.
The following are notes I jotted down on Tuesday, September 27 – Discover Grace Dinner on Sunday. Great meal. Great turnout. Great testimonies. By His grace, God is doing great things at Grace. Also, track the storm in the Gulf to see where it is. Some are saying it could become a hurricane and affect our area. (No way!) If so, maybe start with that and go with a question like, "Speaking of hurricanes, have you ever felt like you had a hurricane roiling around in your head?" Develop this. Talk about peace. Maybe use Isaiah 26:3 – "Thou wilt keep him in perfect peace, whose mind is stayed on Thee; because he trusteth in Thee."
I scrapped the above and started down another track on Wednesday. A hurricane roiling around in your head? Really, Steve? So here is what I started on Wednesday, September 28 – As I write, today is Wednesday. The temperature is quite comfortable, but the winds have increased. Some might even describe it as a blustery day. I believe Winnie the Pooh referred to a similar day in the Hundred-Acre Wood as "Winds-day." Of course, two days from now when this entry gets posted on the church website, we could be experiencing high winds and heavy rains due to Hurricane Ian. At least that's what the latest forecast is saying. Whether the storm arrives in the Lowcountry in the form of a full-on hurricane or as the remains of one, you can be certain many of us here at the church are praying for you and all who are in the path of this storm.
All the talk of a hurricane heading this way has me thinking about the prophet Elijah. Perhaps you recall the story. After confronting and destroying the 450 prophets of Baal, Elijah traveled to Mount Horeb (called "the mountain of God" in 1 Kings 19:8) and met the Lord there. The Bible says, "Then a great and powerful wind tore the mountains apart and shattered the rocks before the Lord, but the Lord was not in the wind. After the wind there was an earthquake, but the Lord was not in the earthquake. After the earthquake came a fire, but the Lord was not in the fire. And after the fire came a gentle whisper" (1 Kings 19:11b–12 NIV).
Unfortunately, that's as far as I got two days ago. I planned to develop my thinking on the above passage yesterday (Thursday), but with the latest news on the storm, I started over. The following is what I started on Thursday, September 29 – I have started this post several times this week. Due to the alert that just came over my phone, however, I'm starting over one more time. Perhaps you received the same alert on your phone – There is a Hurricane Warning for the Hilton Head / Savannah area. Hurricane Ian left quite a mark through central Florida. Although it has been downgraded to a tropical storm now, weather forecasters believe Ian will move out to sea where it will gain strength and make landfall near us. Today is Thursday, and landfall is expected sometime tomorrow.
The alert on my phone included instructions on how to stay safe. It said, "Urgently complete efforts to protect life and property. Have food, water, cash, fuel, and medications for 3+ days. Follow instructions from local officials." Wow! That sounds pretty serious!
In the conclusion of his letter to the Corinthian church, the Apostle Paul gave urgent instructions when he wrote, "Be on guard. Stand firm in the faith. Be courageous. Be strong. And do everything with love" (1 Corinthians 16:13–14 NLT). I like how the New American Standard Bible translates the first part of verse 13 – "Be on the alert!" Yes, like the alert I received on my phone, the Apostle Paul shared an "alert" with the believers at Corinth – and to all believers. The Corinthians were an immature people. Paul's desire was for them to move from a baby faith to a strong faith. Therefore, they (and we) must constantly be on the alert. The Bible says we are in a battle. We have a clear enemy. Fight hard! Stand firm! Be courageous! Oh, and love others!
Well, it's Friday morning now. The plan was to put the finishing touches on what I wrote yesterday and get this to Stacey. It rained all night, but it appears the storm has moved more north of us. Does what I have from yesterday still apply, or should I scrap it and start over? Do I talk about the uncertainty of a weather forecast as opposed to the certainty of God's promises? That He is coming again? That the signs point to His soon appearing? Maybe another time. After much consideration, I think I'll share how this week's post got started and its transformation through the week. Sure hope there's something here for you to chew on, dear Grace.
The Discover Grace Dinner on Sunday really was a great success. It is such an encouraging event for the staff to hear the testimonies of those in attendance. Among the questions we ask are these – What brought you to Grace, and what kept you here? Often, people talk about being invited to the church by a friend. Or they are new to the area and found us online. But what is it that keeps them coming? Overwhelmingly, it is YOU, dear Grace. Yes, they enjoy Matthew's preaching. They love Seth and the Worship Team. They rave about our Children's Ministry, our focus on Missions, and every other aspect of the ministry here. But the most common response to that question is this one – "It just feels like family here. The people are so kind. I felt so welcomed that first Sunday here." Thank you, Church, for being a loving and welcoming church. The Lord is surely pleased, and I am so blessed by you.
Tomorrow morning, the men are planning to gather at 8 AM for breakfast, fellowship, and prayer. This will take place at the church. If you come, you won't be disappointed.
Ladies, don't forget the fall conference next Saturday, October 8. You may visit the church website – www.gracehhi.org – to register. Contact Jessica Maples, our Director of Women's Ministries, with any questions about the event.
Finally, we will host an all-church picnic and a baptism service at Driessen Beach Park on Sunday, October 16. If you know of someone who wants to follow the Lord in believer's baptism, please have them contact the church office.
Sorry I'm a little late this week, Stacey. Thanks for your patience. And thanks to you, dear Grace, for reading my ramblings. I hope to see you Sunday. You are so loved.
Steve
09.23.22
Hi, dear Grace!
Would you like to know how I knew Blair was THE ONE for me? Would you like to know what solidified in my head that she would be my wife? It's not some deep theological nugget that will change how people determine who their future spouse will be. It is, however, something I had never experienced before and was quite revelatory to me. But before I get to that, let me share some backstory.
Despite what you may think, I am quiet and reserved by nature. Yes, I can be loud and boisterous about things that excite me – the Bible, my family, God's grace, Grace Church, sports … the list is long and varied – but to be honest, while I am surely less restrained about some things, I really am an introvert. I liked girls in high school. The problem? I liked basketball more. And baseball. And my friends. And … well, let's just say girls could be found on the list of things I liked, but you would have to look at that list closely to find them on it. Things started to change when I was a senior and took the following year's homecoming queen to the Junior-Senior Banquet. Dressed in a tux, pulling up to her home in my light blue '76 Chevy Chevette, and carrying a corsage to her door, I was feeling pretty good about myself. The banquet itself was great. My date was great. The time with my classmates was great. And the Senior Awards were great. (I was voted Most Easy-Going Guy of the Class of '81.) However – and I hate that there's a "however" to this story – I was stressed out the entire time I was with my date in the car. As we were driving to the banquet … as we were driving to the after-banquet party … and as I was driving her home, I felt such pressure to keep the conversation going. If a moment of silence passed between us, I panicked. As dumb as it may sound, a lull felt like the end of the world (or, at the very least, the end of my dating relationship). By the time I was a sophomore in college, I was much more confident in myself. Not only that, but you didn't have to look too closely on "The List of Things Steve Likes" to find girls on that list. Unfortunately, when I was with a girl, I continued to struggle when a hush fell over us. Oh, no! What do I say? She probably doesn't want to talk sports. I was at a total loss.
And then Blair came along. Blair was outgoing. She was fun. She loved to laugh. She loved sports – YES! And although her faith was very new to her, she deeply loved the Lord. I was very attracted to her and began to wonder if she could be THE ONE for me, but it wasn't until we went on our first date that I knew for certain she was definitely THE ONE. Why? Because with her, I was at total peace – even in times of quiet. As a matter of fact, I didn't immediately notice when silence happened between us. Only after these times passed did I realize a hush had taken place and I didn't panic. That was big for me – really big! I'll say it again … With Blair, I was at total peace even in the quiet.
You know what? The Lord wants this with me, and He wants it with you, too. Sadly, how I felt in silence with a date years ago is sometimes how I feel in silence before the Lord even today. Sure, I spend time reading my Bible daily. And yes, I spend time in prayer. But spending time in the quiet of God's presence? I really don't do that too well. Perhaps it's because I have so much to say to Him. Or perhaps it's because I have so much to do. Either way, my excuses are all about me. The Bible is clear – There is a time to keep silent (Ecclesiastes 3:7). Oh, dear Grace, how I long to be obedient to the Scriptures in this area! Do you remember the words of Moses to the Israelites as they stood between the Egyptians and the Red Sea? "Don't be afraid. Stand firm and watch God do his work of salvation for you today ... God will fight the battle for you. And you? You keep your mouths shut!" (Exodus 14:13–14 MSG). Do you remember the words of David in the Psalms? "Be silent before the Lord and wait expectantly for Him" (Psalm 37:7a HCSB). Or the words of God in the Psalms? "Be still, and know that I am God" (Psalm 46:10a NKJV). Or the words of the Prophet Jeremiah in Lamentations? "It is good to wait quietly for the salvation of the Lord" (Lamentations 3:26 NIV). Or the words of the Prophet Zechariah? "Be silent, all flesh, before the Lord, for He is aroused from His holy habitation" (Zechariah 2:13 NKJV). Forgive me, Lord, when I do all of the talking in prayer. Forgive me when I fail to spend time in silence before You. Help me – please, help me – to be still in Your presence more often. And in that stillness, allow me to simply bask in Your peace and presence, knowing You alone are God. Thank You, and Amen.
To those of you who are not members of Grace, you are invited to attend our Discover Grace Dinner this Sunday at 6 PM. You will have an opportunity to meet the staff and several of our elders and deacons. You will also hear about the mission and vision of Grace. Child care is available. An RSVP is required so that we can prepare adequately for food. We look forward to a great evening together with you.
Ladies, don't forget the Fall Women's Conference – Knit Together In Christ, Sewn Together In Love – scheduled for Saturday, October 8 from 9:00 AM – 3:30 PM. Dawn Camp is the featured speaker. A continental breakfast will be served, as will lunch. Tickets are only $15.00 per person. It promises to be a great day. You may visit our website to make your reservation. See our Director of Women's Ministries, Jessica Maples, if you have any questions about the conference.
We are planning an all-church picnic celebration, to be followed by a baptism service, later in October. Stay tuned for more information on that. If you know someone who is interested in being baptized, let them know. This is always one of the highlights of our year.
I hope to see you Sunday, dear Church, as I will continue our preaching series through the Gospel of Mark. Thank you in advance for your prayers.
To Blair, you are still THE ONE for me. Thank you for an awesome 36 years (and counting). And to the family of Grace, you are such a blessing to me and my family. Thank you for a wonderful coming-up-on 3 years.
You are so loved.
Steve
09.16.22
Hi, dear Grace!
One of our family's favorite movies is called The Emperor's New Groove. It is an animated feature by Disney that came out twenty-two years ago. Lindsey and Andrew were 9 and 7 years old then, and they watched this movie over and over to the point that they can still today say many of the lines from the film by memory. As an aside, many of you with children and grandchildren from the Frozen era may be experiencing this now. Anyway, Blair and I laugh hard as we listen to our kids – now 31 and 29, respectively – go back and forth with dialogue from the film. One particular scene involves Yzma (the protagonist) and Kuzco (the emperor who is turned into a llama by Yzma). Yes, he is turned into a llama. Remember, this is an animated movie. While not one of my favorites, it really is funny. In this particular scene, Yzma is talking incessantly while Kuzco is paying no attention to her. Rather, he is looking at her quizzically and – in his head – asking questions like, "What is holding this woman together?" He then spots a piece of spinach in her teeth and wonders, "How long has that been there?"
That scene from The Emperor's New Groove leads me to recall a time … Ugh! Am I really sharing this with you? Yes, and here goes – Lindsey and Andrew were students at Grace Brethren Christian School, so this goes back about fourteen years or so. There was an evening assembly of some kind at the school. Since Blair was a teacher there, I arrived separately. As I climbed the steps and entered the doors leading to the sanctuary where the assembly was to take place, I saw several people who greeted me and shook my hand. One was even a fellow elder of the church. I remember a double-take from him, which seemed odd, but I didn't think much of it. I still hadn't seen Blair or our kids yet, but I did see two friends – Cliff and Sheryl, a husband and wife who are very dear to me and Blair. I received no greeting from them, though. Instead, Sheryl looked at me, pointed her finger, and said, "You need to go into the bathroom and get that off your face. I can't look at that all evening." Having no idea what she was talking about, I went into the men's room and promptly looked in the mirror. In that moment, the words of Kuzco were my own. HOLY COW!!!! HOW LONG HAS THAT BEEN THERE?!?! AND WHY DIDN'T MY FELLOW ELDER SAY SOMETHING TO ME?!?!
Yes, I was quite embarrassed. But you know what? I really appreciate Sheryl for speaking up. And since then, I speak up, too. Food in your teeth? Something in your nose? Bad breath? Zipper not zipped up? I'm probably going to say something to you – not to embarrass you, but to keep you from being embarrassed. Similarly, if a sin issue has overtaken a brother Christian, it's likely that I will say something. The Bible says, "Dear brothers and sisters, if another believer is overcome by some sin, you who are godly should gently and humbly help that person back onto the right path. And be careful not to fall into the same temptation yourself" (Galatians 6:1 NLT). I'm not talking about judgement here. I'm talking about a brother Christian who has fallen into sin – sin as obvious as that thing on my face – who doesn't need judgement, but restoration. Of course, this is to be done by one who is mature (godly) in the faith. It should also be done gently and in humility. Perhaps I would come alongside a brother more gently than Sheryl did for me – that was brutal, but she did it because she loves me. And love is the motivation in all of this, in hopes that restoration will happen. May we love one another enough to live this verse out at Grace. I pray you will do it for me, dear Church, and I pray you know how much you are loved if I ever have to do it for you.
Many of our Life Groups have started meeting. A few openings are available if you are interested in joining. Community Bible Study also kicked off on Tuesday and figures to be really good. The men's Bible study through Romans has been meeting for several weeks, and the ladies' Wednesday morning study through Colossians started up again this week. The ladies' Cultivating the Fruit of the Spirit study also met for the first time last night. Other studies are available, as well. If you are interested, do not hesitate to contact me. I will work to connect you to a Life Group or Bible study that will fit your current schedule and life situation.
On Sunday, September 25, we will host a Discover Grace Dinner at 6 PM. This event is for those of you who are interested in knowing more about Grace Community Church or who are considering membership. You will enjoy a wonderful meal, have an opportunity to meet our staff and others in leadership, and hear about the mission and vision of Grace. Please contact the church office if you are interested in attending, as an RSVP is required. Child care is also available.
Ladies, don't forget the Fall Women's Conference – Knit Together In Christ, Sewn Together In Love– scheduled for Saturday, October 8 from 9:00 AM – 3:30 PM. Dawn Camp is the featured speaker. A continental breakfast will be served, as will lunch. Tickets are only $15.00 per person. It promises to be a great day. Visit www.gracehhi.org to make your reservation.
As you can see, there's a lot happening at the church. None of it will matter, however, apart from the work of the Spirit in us. We are fully dependent on the Lord and His amazing grace. Please, Lord, have your way in us.
Thank you for reading, dear Grace. You are so loved.
Steve
09.08.22
Hi, dear Grace!
First, thanks so much for finding me among all that is in the Grace Weekly E-newsletter. As you can see, my musings – formerly known as "The Wednesday E-mail" – now have their own space on the Grace website, as well as a new name. Thank you so much to all of you who weighed in with suggestions. You made the decision very difficult, but several of you referenced how I close each edition of my weekly posts. As a result, this corner of our website will now be known as Pastor Steve's You Are Loved. Enjoy, dear Church!
Each year in September, the Maryland Police Chiefs' Association and the Maryland Sheriffs' Association hold a professional development training conference in Ocean City, MD. Chiefs, Sheriffs, and Command Staff personnel from agencies all across the State of Maryland attend this conference. One evening of the week is dedicated to hosting an Awards Banquet for officers whose actions went above and beyond the call of duty or who displayed exemplary work in a particular field. Twenty-three years ago, Blair and I were at that banquet. I was less than five years into my career at the Charles County Sheriff's Office at the time and serving as a detective in the Criminal Investigations Division when someone apparently thought highly enough of my work to nominate me for an award. That nomination resulted in my being named the Maryland Sheriffs' Association's Deputy of the Year for Outstanding Contribution to Profession in 1999. In front of an untold number of high-ranking law enforcement officials, I thanked my wife for her love and support, and I thanked my Sergeant and fellow detectives for their example and their commitment to our calling. I then talked about my brother Chuck, who was a Maryland State Trooper and who had been named Law Enforcement Officer of the Year in St. Mary's County, MD, several years earlier for heroic actions he took during a response to a shooting incident. I also talked about my brother Allen, who had been named Manager of the Year for Foot Locker (an international sportswear and footwear retailer) on more than one occasion in the past. With that, I honored my mom and dad. My award, I said, and my brothers' awards are reflections of our parents, who instilled the character values of sacrifice, service, and a strong work ethic in each of us. I then dedicated the award to them before finally thanking the Maryland Sheriffs' Association and getting off the stage.
Fast forward with me now to last Friday, when Blair and I were in Orlando, FL, to witness our daughter receive The Walt Disney Legacy Award. Allow me to be a bursting-with-pride dad for a moment here. The Legacy Award is named for Walt Disney and his mission to dream, create, and inspire. Recipients are nominated by their peers, and less than one percent of all Disney employees will receive the award. Lindsey is a mover-and-shaker, she is a lover of people, and she is being salt and light to those who work below her, above her, and beside her at Disney World. The Legacy Award is a really big deal there, so when Blair and I got a call to notify us of Lindsey's selection, we made arrangements to be there in person. Oh, we were also sworn to secrecy; the award was a surprise to Lindsey. Yes, there were tears. It was a very special time for our family, and we sure were happy to have all of us – including our son Andrew – together to celebrate the occasion.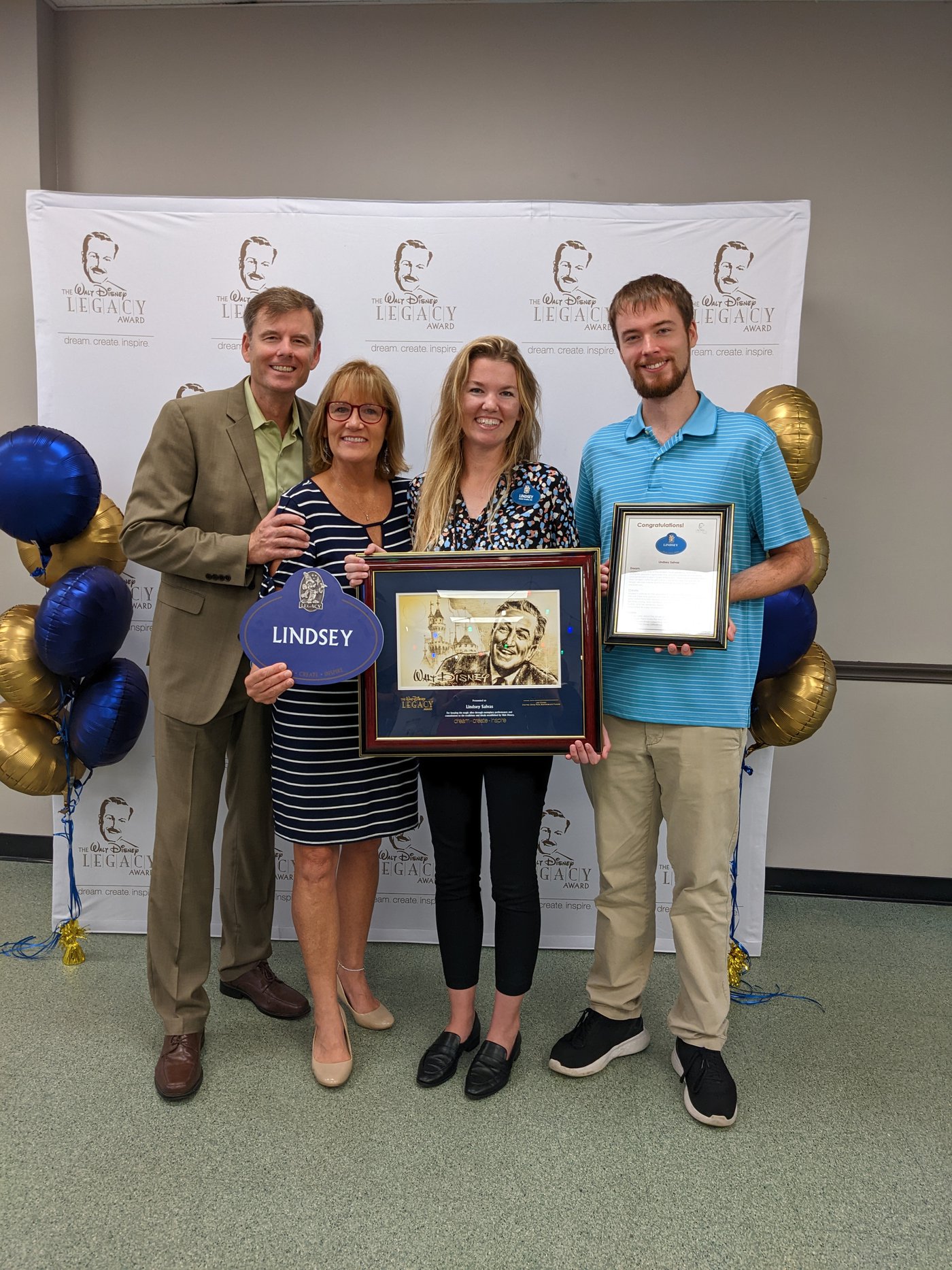 You know, the Bible says, "For we must all stand before Christ to be judged. We will each receive whatever we deserve for the good or evil we have done in this earthly body" (2 Corinthians 5:10 NLT). Yes, dear Grace, there will come a day when we stand before the Lord and answer for the life we have lived. And if we are found deserving on that day, we will receive our reward. Please don't misunderstand me here – I don't live a life of faithfulness so that I can receive a reward in heaven. I live a life of faithfulness because God has called me to be faithful. But a life of faithfulness will never go unnoticed – not here on earth, and certainly not on that day when we stand before Him. Oh, dear Father in heaven, may we be found worthy of a reward as we stand in Your presence. What a joy and privilege it will be when we – like the 24 elders in Revelation 4 – cast our rewards at the feet of the One who truly is worthy of all glory and honor and praise! (See Revelation 4:10–11 for reference.)
Don't forget this Sunday is Back To Church Sunday. There's still time to invite someone to church. If you do, please introduce them to me. I love meeting new people and welcoming them to the greatest church on the Island.
Also on Sunday is the first gathering of the new ministry season for our youth. Teens and their families are invited to Jarvis Park from 5:00–7:10 PM for a time of food, fellowship, and games. If you know of a student in middle or high school, please make them aware of this event. We are hopeful for a great turnout.
Oh, one final thought – To my mom and dad, Lindsey may have received a Legacy Award named for the founder of a global entertainment empire, but your legacy lives on through her and all of your grandchildren. Thank you for your example of faithfulness, commitment, and hard work. Lindsey's award is your award. Feel free to add it to the many rewards you have received (in the case of my mom) and will receive (in the case of my dad) in heaven. We can lay them all down at Jesus' feet together one day.
You are so loved, dear Church. Thanks for reading.
Steve